Плагин adblock для браузера Microsoft Edge
| | |
| --- | --- |
| Разработчик: | BetaFish |
| Лицензия: | Freeware (бесплатное ПО) |
| Язык: | Русский есть |
| Система: | Windows 10 |
| Размер: | 918 Кбайт |
| Обновлен: | 26 августа, 2017 |
Пользователям Windows 10 стал доступен совершенно новый браузер – Edge. Подобный веб-навигатор невозможно загрузить на другую операционную систему, так как он не является отдельным приложением. Веб-навигатор является неотъемлемой частью ОС.
К сожалению, какой бы браузер ни использовался пользователем, на веб-сайтах будет встречаться реклама. Чтобы избавиться от нее, рекомендуется воспользоваться расширением adblock, разработанным для Microsoft Edge. Дополнение позволит избавиться от назойливой рекламы, а также увеличить скорость загрузки контента.
Основные возможности дополнения
Преимущества
Расширение adblock устанавливаемое на браузер Edge имеет преимущества, которые следует отметить. В первую очередь важно заметить, что среди разнообразия блокировщиков, Адблок распространяется совершенно бесплатно. К тому же установка не требует особых навыков в области IT-технологий. Нужно всего лишь кликнуть по кнопке для установки.
Еще одним плюсом можно считать гибкую настройку дополнения. Пользователи могут настроить фильтры на определенные сайты или на все посещаемые Интернет-ресурсы. Следует отметить, что при необходимости дополнение можно отключить.
Недостатки
Расширение иногда блокирует не всю рекламу. Чтобы справиться с проблемой, нужно будет тщательным образом разобраться с настройкой фильтров. Для новичков это непросто. Если неправильно настроить плагин, могут возникнуть проблемы в отображении некоторых элементов веб-сайта. В остальном, недостатков у расширения не замечено.
Как установить и настроить блокировщик
Скачать adblock plus для интернет-обозревателя edge можно с магазина Microsoft. Пользователю следует войти в меню. Чтобы это сделать нужно кликнуть по картинке с тремя точками. Когда меню раскроется пользователю нужно будет кликнуть по пункту: «Расширения».
После этого откроется страница с установленными дополнениями. Чтобы скачать adblock необходимо посетить Windows Store. Для этого рекомендуется перейти по ссылке «Получить расширения из магазина».
На следующем шаге откроется главная страница магазина Майкрософт. Расширение adblock будет отображено на первой странице.
Многие пользователи интересуются, как установить расширение в Edge. Требуется нажать на изображение плагина, после чего откроется страница с описанием продукта. Для установки adblock plus для браузера Microsoft Edge необходимо кликнуть по кнопке «Установить».
Когда расширение будет интегрировано в браузер, у пользователей появится возможность его настроить. Рекомендуется кликнуть по значку плагина, а затем выбрать «Настройки».
В открывшемся окне можно будет увидеть следующие группы настроек:
В целом настройка плагина для браузера Edge ничем не отличается от конфигурации версии для любого другого интернет-обозревателя.
Заключение
Расширение adblock является популярным блокиратором, поэтому нет ничего удивительного в том, что его можно установить в Edge. Благодаря своему функционалу, плагин быстро избавится от рекламы. К тому же при желании можно создать список исключений. Это позволит корректно загружать контент с социальных сетей и видео хостингов.
Плагин может быть отключен в любой момент. Для этого достаточно войти в каталог установленных расширений, а затем кликнуть по надписи выключить.
Adblock Plus and (a little) more
Adblock Plus for Microsoft Edge available for Windows Insiders on a Fast Ring · 2016-05-11 11:27 by Sebastian Noack
We have been working closely with Microsoft to bring Adblock Plus to Microsoft Edge, their new web browser. Today, Microsoft pushed an update to the Windows Insider Fast Ring (their pre-release channel), improving support for browser extensions in Microsoft Edge. At the same time we have released an experimental version of Adblock Plus for Microsoft Edge that is compatible with this latest Windows Insider Fast Ring update. This is the first ad blocker available for Microsoft Edge.
In order to try out the latest pre-release of Windows 10 with Adblock Plus for Microsoft Edge:
Comment [5]
Timppa_K · 2016-05-16 01:01 · #
AdBlock Plus is working well in Edge but one question how..
There are some certain pages which demand AdBlockers to be off. Otherwise they don't show for example videos on the page. I tried to find a place where I could turn off adbloc. No result. Please, advice.
Reply from Oleksandr Paraska:
Dave · 2016-05-17 18:39 · #
Is there an estimate when Adblock will be available for Windows 10 for users who are not "Windows Insiders?"
Reply from Sebastian Noack:
I'm afraid, that we don't have any influence on that. Adblock Plus for Edge will work for the general public of Windows users as soon as Microsoft pushes an update there with the improvements they recently pushed to Windows Insiders.
mik · 2016-06-01 22:40 · #
many websites starting to have a script that recognises that adblock is on and refusing to see content without disabling it.
-My approach is to close the website and continue with another one. But it is starting to be quite common problem. Hope you resolve this issue.
I was waiting for adblock plus in Edge but since I use Chrome I can't go back to Edge and thing that I'm not the only one in this situation. But it will be great for the ones who did not use Chrome
I see from your site that Microsoft has a new browser. – that's FANTASTIC because I added CHROME yesterday to my i-phone and immediately removed it. My "canary", Chrome's Beta Browser often works better on my computer than Chrome, but Chrome must not be made for mobile apps because it was trouble from the moment I installed it. I'd love to install EDGE on my computer and my i-phone and get rid of Chrome. It's always trouble.
This is my first i-phone in 3 years so that's an additional problem. I forgot how awful the Internet experience could be without using an ad blocker, let alone on a small screen mostly filled with ads.
(2) Ad-blocker providers might consider advertising the fact that Ad-Blocker eliminates 90% of the distractions that make navigating the Internet difficult for people with ADHD who are more affected by distractions to the point of being unable to use the Internet from a mobile phone comfortably.
Best Ad Blockers for Microsoft Edge in 2021
Best Ad Blockers for Microsoft Edge Windows Central 2021
Blocking ads sounds excellent, but a lot of the time blocking ads also means you're not supporting websites that offer content for free, so make sure you keep that in mind. If you must use an ad blocker, here's our selection of the best options for Microsoft's new Edge browser.
Social orientated : Adguard Ad Blocker
Adguard AdBlocker offers the same functionality as all other ad blockers, with the addition of being able to remove certain social features from the web. If you don't like seeing Facebook Like buttons on the web, for instance, this extension can make it, so they don't show up on web pages anymore. It also features built-in malware protection, pop-ups, and a whole lot more.
Most popular : AdBlock
This is the original adblocker, and many consider it the best. With over 200 million downloads since its launch, AdBlock is the go-to ad blocker for many people no matter what browser they use. By default, AdBlock will block the most offensive ads while whitelisting several unobtrusive ones. You can whitelist your favorite sites, too, if you wish to continue supporting them.
Very configurable : AdBlock Plus
Much like AdBlock, Adblock Plus will block obtrusive ads while whitelisting a selection of unobtrusive ad providers. Adblock Plus is currently in beta on Microsoft Edge, so you may encounter some bugs with the extension. What's more, since it's beta, not all of its expected features are available yet. Still, Adblock Plus is another incredibly popular adblocker.
Privacy focused : Ghostery
Ghostery advertises itself as less of an ad blocker and more of an extension that stops sites from tracking you. But it still does the ad-blocking stuff, which is why it has a home on our list. Ghostery says it'll significantly speed up your web browsing by minimizing trackers that might weigh down your system, as well as declutter web pages from annoying ads.
Lightweight : uBlock Origin
uBlock Origin is an efficient adblocker. It's easy on the CPU and memory and has incredible customization with a super in-depth settings menu. It has a quick enable/disable the feature for when you do actually want to see ads, and can also create block filters from hosts files. It also has lots of blocklists for you to choose from.
Pure blocking : AdBlocker Ultimate
AdBlocker Ultimate is designed with a single purpose in mind: to remove all ads and focus your attention on the content you want. It's free, and it blocks ads and malicious domains that are known to spread malware. It can also disable tracking. Features include the ability to remove all ads, block malware, and improve browser performance.
Making a suggestion
We personally prefer Adguard AdBlocker, as it's super simple, but can also be configured with very fine controls. If you want to whitelist certain sites, it's easy, or if you want to block a whole chain of ad networks, you can do that too with Adguard.
We may earn a commission for purchases using our links. Learn more.
These external monitors go perfectly with the Lenovo ThinkPad X1 Carbon
The Lenovo ThinkPad X1 Carbon is an excellent laptop, but what if you want to project the display onto a larger screen? You'll need an external monitor for that. Here are our favorite options.
These are the best PC sticks when you're on the move
Instant computer — just add a screen. That's the general idea behind the ultra-portable PC, but it can be hard to know which one you want. Relax, we have you covered!
These tools will help you keep your PC's drivers updated
Windows 10 does a good job of updating your PC's drivers, but third-party tools can help you clean up and optimize your system. Here are the best tools to keep your Windows 10 PC's drivers up to date.
Zac Bowden
Zac Bowden is a Senior Editor at Windows Central. Bringing you exclusive coverage into the world of Windows 10 on PCs, tablets, phones, and more. Also an avid collector of rare Microsoft prototype devices! Keep in touch on Twitter: @zacbowden.
Adblock Plus and (a little) more
Finally! Adblock Plus for Microsoft Edge now available for 350 million Windows 10 users · 2016-08-02 14:00 by Oleksandr Paraska
Today, Microsoft is releasing the big Anniversary Update to Windows 10. Among other changes to the operating system, this brings support for extensions to Microsoft Edge. Which means that people running Windows 10 can install Adblock Plus for Microsoft Edge, and start blocking annoying advertisements in Microsoft's new standard browser. (Please note that according to Microsoft, the Windows 10 update will be rolled out over a few months, so if you cannot install Adblock Plus and other extensions today, Microsoft will surely deliver your update soon.)
As you may already know, Adblock Plus was already available for Microsoft Edge before but could only be installed by participants of Microsoft's Windows Insider Program. Today marks a release to the general public and we are very excited to welcome all Microsoft Edge users to the ad blocking community.
After years of development and support of Adblock Plus for Internet Explorer we very much welcome Microsoft's bold attempt to move to standards based approaches with Microsoft Edge. One of the upsides of this approach is that our current implementation of Adblock Plus for Microsoft Edge is based on the code of Adblock Plus for Chrome, unlike the entirely separate codebase for Internet Explorer.
We have been working closely with Microsoft to bring this version to life, and we feel very grateful for the opportunity. However, since Adblock Plus for Microsoft Edge is still in early development stage, there still are some issues and limitations. Most notably we are currently limited in the amount of space we have to store your filter subscriptions. So some of the heavy users might find that adding more than one or two subscriptions will not work. There are also a few other issues, which is why we have decided to keep the Beta title for now. Nevertheless, we are still committed to bypass most of the limitations in future releases.
We hope you enjoy using Adblock Plus on Microsoft Edge, and as always please feel free to report any issues.
Comment [24]
Anon · 2016-08-02 15:15 · #
How about AdBlock Plus on Edge for Windows mobile? Do you know a date when extensions will be available on mobile?
Reply from Oleksandr Paraska:
Microsoft Edge on Windows Mobile does not currently support extensions and we are not currently working on a version of Adblock Plus for that platform. However we will surely try to be the first in line to release a version for Windows Mobile (and XBox) when it is possible.
Phil · 2016-08-02 18:18 · #
Reply from Wladimir Palant:
Unfortunately, our builds wouldn't be signed which means that they won't install. And downloading the package from Windows Store is a non-trivial exercise to say the least. As things are now, there isn't really a way around Windows Store.
Peter Arentsen · 2016-08-02 20:41 · #
Any hint for when I have problem getting the addon to work in edge it installs in the store but no addon show up in the extension bar.
Gromith · 2016-08-02 21:16 · #
Same here, Installation ends with "This app does not support the contract specified or is not installed" 🙁
Ciccio · 2016-08-02 21:29 · #
Error during install. Can't install after Windows 10 upgrade release today
hjl · 2016-08-02 21:36 · #
cant even download the Extension in Windows store
Albert · 2016-08-02 22:21 · #
I have downloaded the app from the store but it says it's must be repaired and I can't get it running by reinstalling the app.
ahmad · 2016-08-02 22:36 · #
same for me
I have downloaded the app from the store but it says it's must be repaired and I can't get it running by reinstalling the app
Jazz · 2016-08-03 01:27 · #
I had an issue installing the extension too, said I needed to repair. I fixed it by going to:
Start > Settings > Apps and Features > uninstall extension > reinstall from the Windows Store.
Katie · 2016-08-03 01:30 · #
Installed adblock plus on windows 10 desktop after todays update, store says needs repair and a reinstall does not fix the issue also tried a sfc scan to no avail
Benjamin · 2016-08-03 06:57 · #
Is there any regional restriction at the moment for downloading ABP from Windows Store? I'm from Germany. When I click in the Windows Store on your Extensions i can see the product page, but there is no install button for me. Is there any solution or workaround?
For all the others that have difficulties with the "extension needs to be repaired" thing I can provide a solution:
1) Close all open Applications
2) Goto Settings (control panel) —> System —> Apps & Features and deinstall all your installed edge extensions.
3) Open Windows PowerShell and enter wsreset.exe and wait untill the Windows Store opens itself. (Took about 2 Minutes for me, don't panic if it takes a while till something happens).
4) Go to Edge browser and download the extensions again.
Reply from Oleksandr Paraska:
Yes, currently ABP for Edge is not available in Germany. You should be able to install it from any other Windows Store region though.
thanks for this post.
Michael Dutton · 2016-08-04 11:04 · #
Benjamin, I've tried this and still have no joy in getting the extensions to install on my machine in the UK.
Thanks for trying to help though.
Currently raising a ticket with Microsoft.
If I get this resolved I'll try to post a solution, but I have a feeling that Microsoft will have to be fixing this.
Peter Arentsen, Adblock Plus for Edge does not show up in the taskbar, only at the top of the browser's main drop-down menu.
bystander · 2016-08-04 23:34 · #
Installed ABP after the anniversary update.
The extension is in Edge but disabled. Hitting "Activate" does nothing except graying out the activate command.
Restarted the computer but still no cigar.
Richard · 2016-08-05 02:54 · #
Mark · 2016-08-06 01:08 · #
I've been holding off on using Edge since it did not support extensions and Adblock Plus is a "must have" for me. Thanks for working to make ABP immediately available for Edge when the Windows 10 Anniversary update came out. Now it's time to put Edge through a thorough trial and see if it can "edge" out Chrome or not!
Most of the ad blockers are like adwares which harms browser and user a lot and i used ad blocker it is really awesome
Anonymous · 2016-08-10 22:44 · #
On some of my PCs I don't use the Windows Store — no login setup and none desired. I suppose this is going to be increasingly problematic, but so far ABP is the ONLY app that is unavailable with this approach.
Is there any hope for a workaround? I get that this is 100% Microsoft's design, not your choice. Is it just the Edge architecture?
Anonymous1302 · 2016-08-13 23:06 · #
Why is this great extension not available in the german Windows store? It doesn't even show up in the store if I manually search for it, and if I use a direct link all I get is "This app is currently not available."
It is however available in the Windows store in other countries, but I don't want to play with my settings just to setup an extension.
So why is it not available in Germany? You're a german company after all. 🙂
Adblock Plus available for Microsoft Edge before but could only be installed by participants of Microsoft's Windows Insider Program i would suggest all of you to use that
I used this latest version and believe me it don't have any adware like other adblockers
Commenting is closed for this article.
Get Adblock Plus for your devices
Download the popular extension on your favorite browsers and devices.
Copyright © 2020 All rights reserved. Adblock Plus ® is a registered trademark of eyeo GmbH.
Used to remember your privacy preferences. They cannot be switched off.
We use these to analyze website traffic.
We use these Google Optimize cookies for A/B testing based on the analytics data.
В Microsoft Edge появилась поддержка AdBlock и AdBlock Plus
В магазине Windows появились расширения AdBlock и AdBlock Plus, блокирующие показ рекламных баннеров и объявлений в браузере Microsoft Edge.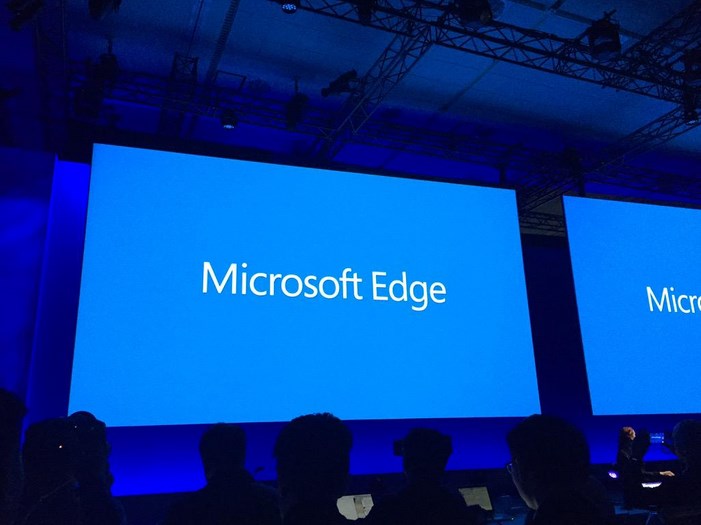 Microsoft тестирует расширения в Microsoft Edge с марта этого года, и в настоящее время эта возможность доступна только на сборках Windows 10, которые выпускаются в рамках программы Windows Insider в быстром и медленном циклах обновлений. После выхода следующего крупного обновления Windows 10 (так называемый Anniversary Update), расширения будут доступны всем пользователям Microsoft Edge, а устанавливать их можно будет через магазин Windows точно так же, как приложения и игры.
AdBlock и AdBlock Plus работают в Microsoft Edge примерно так же, как в других браузерах: автоматически скрывают большую часть рекламы на веб-сайтах, периодически обновляют блокировочную базу, а также позволяют вручную блокировать баннеры (если они по какой-то причине не блокируют расширением автоматически) и добавлять сайты (например, w7phone.ru) в белый список.
По данным сооснователя и главы компании Eyeo, владеющим AdBlock Plus, количество активных пользователей этого расширения по всему миру достигло ста миллионов человек. При этом общее число установок расширения приблизилось к одному миллиарду. В настоящее время AdBlock Plus доступен на десктопных устройствах (в браузерах Mozilla Firefox, Google Chrome, Opera, Apple Safari, Internet Explorer и Microsoft Edge), а также на смартфонах и планшетах с Android и iOS.
Отметку в пятьсот миллионов установок AdBlock Plus преодолел совсем недавно — в январе этого года. В феврале у этого расширения было пятьдесят миллионов активных пользователей.
Верятно, в скором времени расширения AdBlock и AdBlock Plus появятся и в версии Microsoft Edge для Windows 10 Mobile. По словам представителей Microsoft (на видео ниже), инженеры компании уже тестируют работу расширений на мобильной платформе. На момент готовности этой функции Microsoft планирует выпустить несколько расширений, в том числе AdBlock, OneNote Web Clipper и Microsoft Translator. Как и в случае с Microsoft Edge для Windows 10, устанавливать эти расширения можно будет в магазине Windows. Не исключено, что в будущем эти расширения будут универсальные, то есть смогут работать как в Windows 10, так и в Windows 10 Mobile без изменения кода.