Add a Clock Desktop Widget in Windows 10?
There's a lot I like about the upgrade from Windows 7 to Windows 10, but I miss my Desktop clock. Is that just gone? Or is there some other way to have the time on my Desktop?
Ah yes, the old Desktop Widgets and side panel from Windows 7 days. It was definitely a really cool concept and there were a number of slick widgets people created, but there was one major issue that caused Microsoft to drop it from Windows 8: security. In fact, it was way back in July of 2010 that Microsoft recommended everyone disable the Win7 Desktop Gadgets!
By Windows 8, the logic was that the start screen would give you everything you wanted, whether it was a weather widget, a clock, a stock ticker or anything else. True, it did, but then Windows 10 came along and we went back to the Desktop with a Start menu. And while those active tiles remain accessible from the Start menu, the widgets never quite made it back when we were all dropped back onto the Desktop upon login.
Still, the official Microsoft answer for Windows 10 would undoubtedly be "use the active tiles on the new start menu", and that works when the menu's visible. Otherwise, well…
I looked around and did find someone who had cobbled together a Windows 7 widget utility that brings back the original Win7 desktop widgets, but it's rather flakey from what I can ascertain. Still, let's have a look, because if all you want is a clock and the clock on the Taskbar (you know, the lower right edge of your screen) isn't enough, it is a solution. A solution. Not a great solution.
Start by going to GadgetsRevived.com and downloading the program, then double click to begin the install process:
Certainly looks good, doesn't it? Click Next to continue.
Disclaimer: I scanned the binary when I downloaded and installed this program and it was clean. I can't guarantee it'll always be that way, so please use caution when you grab a copy and if your anti-virus program complains, don't install it!
It installs easily enough and once launched, shows a familiar Window with some very familiar looking widgets and gadgets:
The only gadget I tested thoroughly was the Clock and that's easy to get going: Just double click on it and an analog clock pops up on the top right of your Desktop, floating above all the other windows: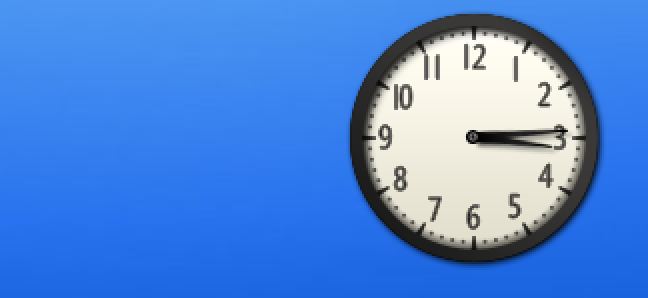 Hurray! Now, move your cursor over the gadget itself and a little menu pops up adjacent: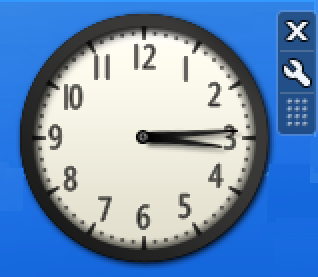 The "X" gets rid of the gadget, the wrench icon gets you to settings, and the tiny grid lets you drag and move the gadget around to a different spot on your screen.
Click on the wrench and there are actually eight different clock faces:
I like this modern red face, so that's what I'll choose by clicking "OK".
While I was experimenting, I also launched the weather gadget, but it never could connect to the weather server and display any weather, as you can see: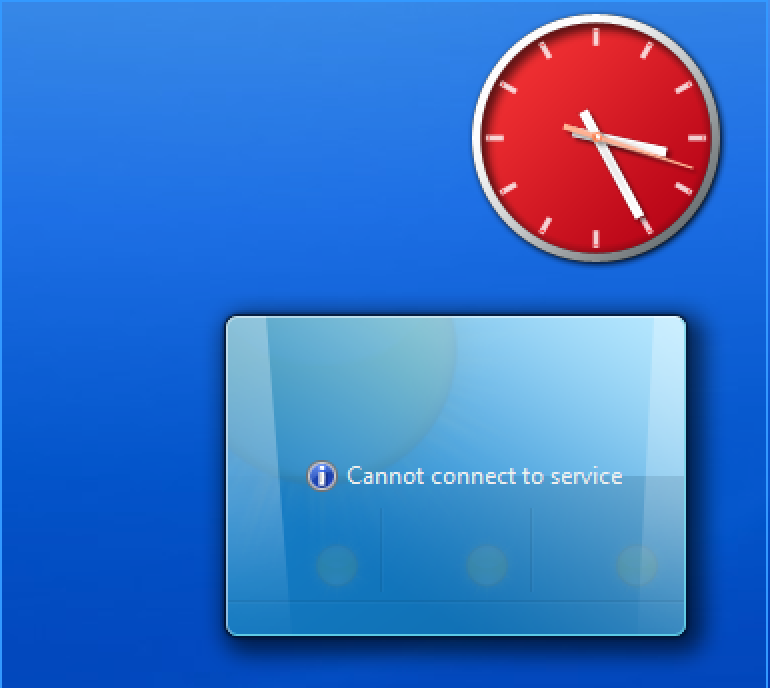 So not really a huge success, all in all, and the program took a while to launch after a restart, so I might not even keep it around. I'm lukewarm on recommending this to you too, but at least you know that there are some solutions out there. Perhaps there's a better one: if you have a favorite, recommend it in the comments.