Как запустить Apache на Windows
Веб-сервер Apache – это служба, которая работает в фоне и у которой нет графического интерфейса. Эта служба устанавливается и запускается в командной строке.
Если вам нужен только веб-сервер без дополнительных модулей, то вы можете ограничиться базовой настройкой.
Настройка Apache на Windows

На самом деле, базовая настройка веб-сервера крайне проста – необходимо только правильно указать путь до папки, в которой помещены веб-сайты – этого будет достаточно для запуска веб-сервера.
Кстати, в конфигурационном файле уже прописаны значения многих параметров по умолчанию. К примеру, по умолчанию корневой директорией является c:/Apache24. Поэтому если папку Apache24 из скаченного архива вы разархивируете в корень диска C, то вы можете вообще без настройки запустить веб-сервер следующей командой:
И по адресу http://localhost увидите стандартную страницу веб-сервера, которая сообщает, что он работает:
Кстати, для открытия командной строки в Windows используйте сочетание клавиш Win+x и в открывшемся окне выберите Windows PowerShell (администратор).
Настройка веб-сервера выполняется посредством редактирования текстового файла, который размещён в папке Apache24\conf\ и называется httpd.conf.
Этот файл состоит из директив с определёнными значениями. Эти директивы регулируют поведение веб-сервера. Но больше чем директив в этом файле комментариев – они начинаются с решётки (#) – комментарии нужны для человека, который настраивает веб-сервер. Сам сервер строки начинающиеся с # просто игнорирует. Т.е. вы можете просто удалить их.
Этот файл содержит не все возможные директивы – многие из них здесь отсутствуют, поскольку не требуются для большинства задач. Даже в этой заметки мы рассмотрим не все доступные в файле настройки – если описание чего-то пропущено, значит просто не нужно это трогать.
Как уже было сказано, важно установить путь до папки с веб-сайтами. Если она установлена неправильно (например, отсутствует на компьютере), то веб-сервер не запуститься.
Думаю, вы уже обратили внимание, что веб-сервер отличается от других программ для Windows. Если вы знакомы с Linux или другими аналогичными операционными системами, вам должна быть знакома работа в консоли и редактирование текстовых файлов. Пути до файлов тоже записываются не совсем обычно для Windows. Сейчас главное уяснить два правила:
Итак, откройте файл Apache24\conf\httpd.conf любым текстовым редактором (хоть Блокнотом) и вот мы уже готовы к настройке веб-сервера.
Первой идёт директива ServerRoot – это верхняя директория дерева, в которой хранятся файлы конфигурации сервера и журналов. Не добавляйте слэш на конец пути папки.
Значение по умолчанию устанавливается двумя директивами:
Первая директива присваивает значение переменной SRVROOT, которое по умолчанию «c:/Apache24». Вторая директива присваивает значение переменной $ настройке ServerRoot.
ServerRoot — это та папка, в которой находятся все файлы веб-сервера – поменяйте значение на то, куда вы распаковали файлы веб-сервера. Это можно сделать используя конструкцию из двух переменных:
Директива Listen позволяет вам привязать Apache к определённому IP адресу и/или порту. Значение по умолчанию:
Оно означает, прослушивать 80 порт на любом IP адресе (т.е. любом сетевом интерфейсе), доступном в вашей системе. Вы можете указать конкретный IP адрес, который нужно прослушивать и, следовательно, на запросы с которого отвечать:
Можно указать несколько портов:
Или несколько IP и портов:
Вы можете использовать любые сочетания, главное правило – порт на указанном интерфейсе (IP) не должен быть занят другой программой.
Значение по умолчанию вполне подходит для локального веб-сервера – т.е. здесь можно просто ничего не менять.
Далее идёт большой список модулей. Некоторые их них отключены (строки закомментированы, т.е. начинаются с #), а некоторые включены.
На самом деле, всё действительно необходимое уже включено – и для работы большинства веб-сайтов менять ничего не нужно – особенно на локальном веб-сервере. Но есть одно исключение – модуль mod_rewrite по умолчанию отключён. Это очень популярный модуль, например, все ЧПУ (понятные для человека адреса страниц) делаются с помощью него. Вы можете его включить, для этого достаточно найти строку:
и раскомментировать её, т.е. заменить на:
Директива ServerAdmin содержит e-mail администратора, этот адрес электронной почты пишется на некоторых страницах веб-сервера, которые автоматически генерируются в случае возникновения ошибок. Подразумеваются, что по этому адресу можно связаться с администратором.
Директива ServerName – это то, как сервер сам себя идентифицирует (называет). Для локального веб-сервера поменяйте строку
запрещает доступ к файловой системе веб-сервера (пока это не разрешено явно) и запрещает использовать файлы .htaccess (пока это не разрешено явно).
Далее идёт довольно объёмная конструкция, но если удалить из неё комментарии, то получается следующее:
DocumentRoot – это директория, где по умолчанию находятся сайты. По умолчанию именно там ищутся все пришедшие на веб-сервер запросы. Укажите здесь путь до корневой папки в веб-документами. Конечный слэш писать не нужно.
Конструкция … нам уже встречалась. Но здесь указывается конкретная папка, для который делаются настройки. Эти настройки перезаписывают общие, которые указаны ранее.
Пути до папок в DocumentRoot и Directory не забудьте поменять на свои!
Директива Options включает разные опции. По умолчанию указаны опции Indexes и FollowSymLinks. Первая (Indexes) означает показывать индексные файлы, если запрос не содержит имени файла. Допустим, пользователь открывает адрес http://localhost/site/, то если в этой папке есть индексный файл (например, index.html или index.php), то будет показан этот файл. Понятно, что если сделан запрос на определённый файл, например, http://localhost/site/page.html, то будет показана запрошенная страница.
Вторая опция (FollowSymLinks) означает следовать символьным ссылкам. Это что-то вроде ярлыков в Windows. В Linux с помощью таких ссылок можно собрать в одном сайте файлы, размещённые в различных папках файловой системы. На самом деле, для начинающих администраторов сервера это не очень нужно.
Директива AllowOverride установлена на None, это означает запрет использовать файлы .htaccess. На своём сервере я разрешаю файлы .htaccess (нужны для mod_rewrite, ограничения доступа), поэтому я заменяю её значение на All, получается так:
А директива Require all granted открывает посетителям доступ для веб-документов.
Я уже упомянул индексные файлы, перечень индексных файлов устанавливается конструкцией:
Другие настройки обычно не требуется менять для локального веб-сервера.
How to Install Apache on a Windows Server
When looking to host websites or services from a Windows server, there are several options to consider. It is worth reviewing the strengths and weaknesses of each server type to determine which one is most likely to meet your particular needs before you spend the time installing and configuring a web service.
Some of the most common web servers available for Windows services are Tomcat, Microsoft IIS (Internet Information Services), and of course the Apache server. Many server owners will choose to use a control panel which manages most of the common tasks usually needed to administer a web server such as e-mail and firewall configuration.
At LiquidWeb, that option means you're using one of our Fully Managed Windows Servers with Plesk. Alternately, some administrators who need more flexibility choose one of our Core or Self-Managed Windows Servers. This article is intended for the latter type of server with no Plesk (or other) server management control panel.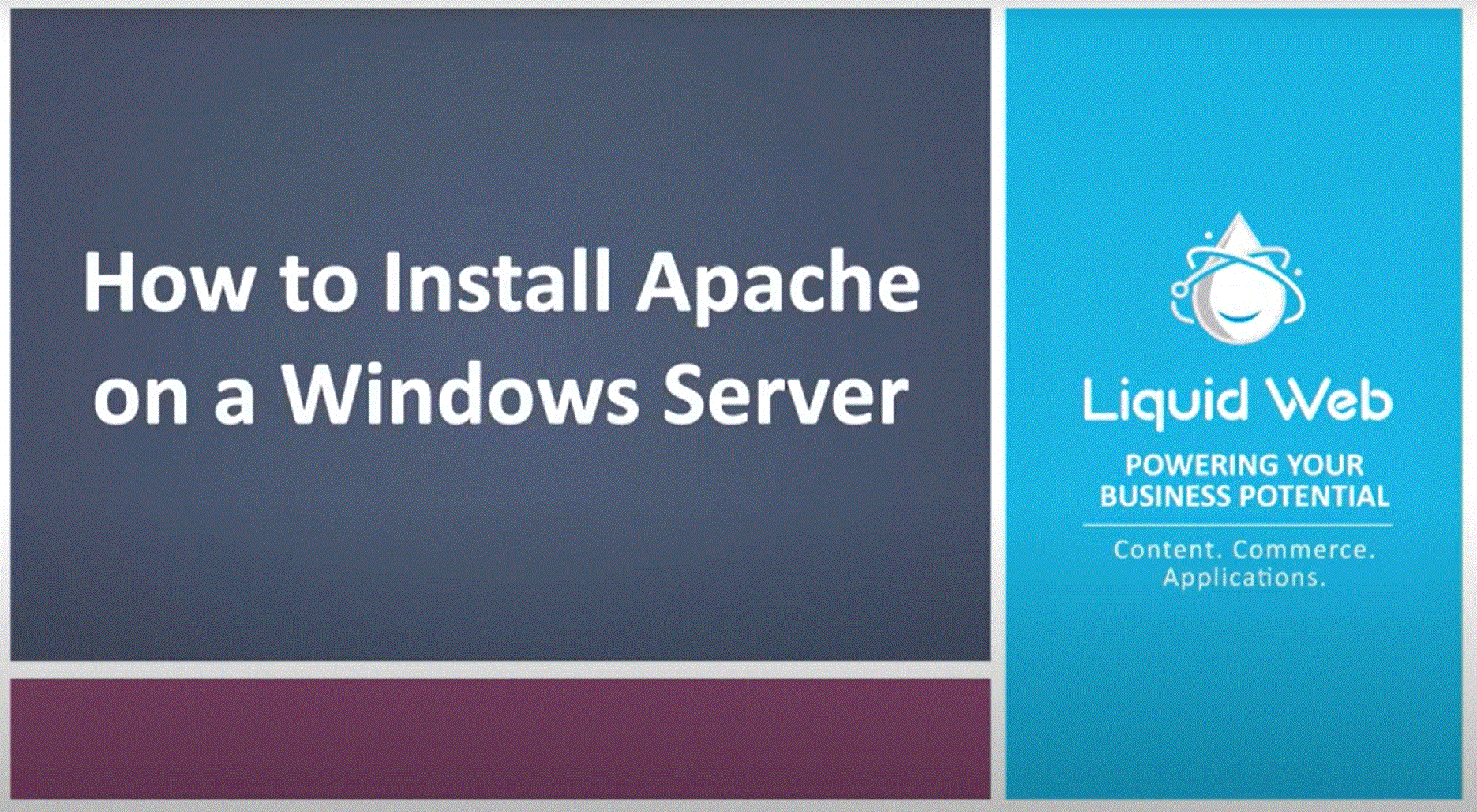 Preflight Check
This guide was written for a 64-bit Windows server since a modern server is more likely to utilize that platform. There are also a few potential issues with Apache on a Windows 32-bit systems (non-64-bit) which you should be aware of and can be reviewed here.
While there are several mirrors to choose from for downloading the pre-compiled Apache binaries for windows, we'll be using ApacheHaus for this task.
(This is the 64-bit version with OpenSSL version 1.1.1a included). If you would like to utilize an alternate version they are listed here:В Available Versions Page
Install Apache on Windows
We will assume that you have installed all the latest available updates for your version of Windows. If not, it is critical to do so now to avoid unexpected issues. These instructions are specifically adapted from the directions provided by ApacheHaus where we obtained the binary package. You may find the entire document in the extracted Apache folder under the file "readme_first.html".
Visual C++ Installation
Before installing Apache, we first need to install the below package. Once it has been installed, it is often a good idea to restart the system to ensure any remaining changes requiring a restart are completed.
Apache Installation
Step 1.
Extract the compressed Apache download. While you can extract it to any directory it is the best practice to extract it to the root directory of the drive it is located on (our example folder is located in C:\Apache24). This is the location we will be using for these instructions.
(Note: Once installed you can see Apache's base path by opening the configuration file and checking the "ServerRoot" directive).

Step 2.
Open an "Administrator" command prompt. (Click the Windows "Start" icon, then type "cmd". Right-click the "Command Prompt" item which appears, and select "Run As Administrator.")
Step 3.
Change to the installation directory (For our purposes C:\Apache24\bin).
Step 4.
Run the program httpd.exe.
Step 5.
You will likely notice a dialogue box from the Windows Firewall noting that some features are being blocked. If this appears, place a checkmark in "PrivateNetworks…" as well as "PublicNetworks…", and then click "Allowaccess."
Test Apache Installation
As noted in the ApacheHaus instructions: "You can now test your installation by opening up your Web Browser and typing in the address: http://localhost. If everything is working properly, you should see the ApacheHaus' test page."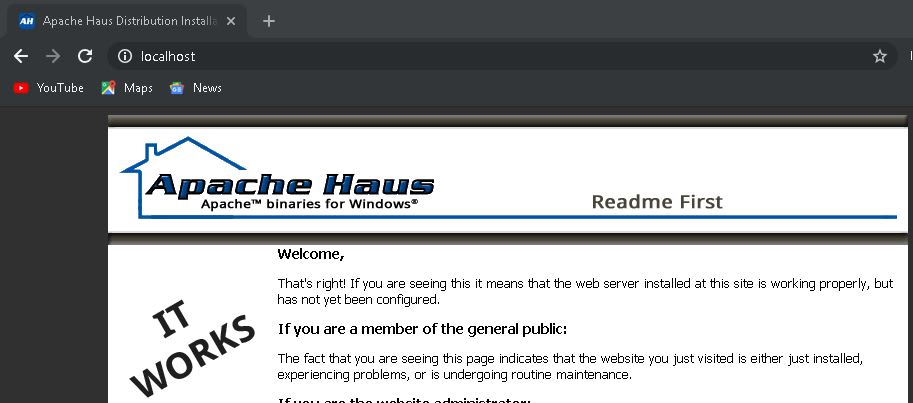 To shut down the new Apache server instance, you can go back to the Command Prompt and press "Control-C".
Install Apache Service
Now that we have confirmed the Apache server is working and shut it down, we are ready to install Apache as a system service.
Step 1.
In your Command Prompt window, enter (or paste) the following command:
Output:

Step 2.
From your Command Prompt window enter the following command and press 'Enter.' services.msc and look for the service "Apache HTTP Server." Looking towards the left of that line you should see "Automatic." If you do not, double-click the line and change the Startup Type to "Automatic."
Step 3.
Restart your server and open a web browser once you are logged back in. Go to this page in the browser's URL bar: http://localhost/.
Configure Windows' Firewall
To allow connections from the Internet to your new web server, you will need to configure a Windows Firewall rule to do so. Follow these steps.
Step1.
 Click the "WindowsStart" button, and enter "firewall." Click the "Windows Firewall With Advanced Security" item.
Step 2.
Click "NewRule" on the right-hand sidebar.

Step 3.
Select "Port," and click Next. Select the radio button next to "Specificremoteports:" Enter the following into the input box: 80, 443, 8080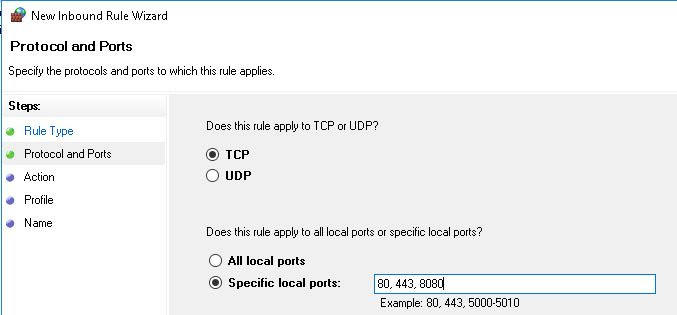 Step 4.
Click Next, then select the radio button next to "Allowtheconnection."
Step 5.
Click Next, ensure all the boxes on the next page are checked, then click Next again.
Step 6.
For the "name" section, enter a description that is familiar enough that you will be able to recognize the rule's purpose later such as: "AllowIncomingApacheTraffic."

Step 7.
Click "finish".
Step 8.
Try connecting to your server's IP address from a device other than the one you are using to connect to the server right now. Open a browser and enter the IP address of your server. For example, http://192.168.1.21/. You should see the test web page.
Step 9.
For now, go back to the Windows firewall and right-click the new rule you created under the "InboundRules" section. Click "Disable Rule." This will block any incoming connections until you have removed or renamed the default test page as it exposes too much information about the server to the Internet. Once you are ready to start serving your new web pages, re-enable that firewall rules, and they should be reachable from the Internet again.
That's it! We now have the Apache Web Server installed on our Windows server. From here you'll likely want to install additional Apache modules like the PHP and MySQL modules for Apache.
Our technical support staff is always available to assist with any issues related to this article, 24 hours a day, 7 days a week 365 days a year.
Using Apache HTTP Server on Microsoft Windows
This document explains how to install, configure and run Apache 2.4 under Microsoft Windows. If you have questions after reviewing the documentation (and any event and error logs), you should consult the peer-supported users' mailing list.
This document assumes that you are installing a binary distribution of Apache. If you want to compile Apache yourself (possibly to help with development or tracking down bugs), see Compiling Apache for Microsoft Windows.
See also

Operating System Requirements
The primary Windows platform for running Apache 2.4 is Windows 2000 or later. Always obtain and install the current service pack to avoid operating system bugs.

Downloading Apache for Windows
The Apache HTTP Server Project itself does not provide binary releases of software, only source code. Individual committers may provide binary packages as a convenience, but it is not a release deliverable.
If you cannot compile the Apache HTTP Server yourself, you can obtain a binary package from numerous binary distributions available on the Internet.
Popular options for deploying Apache httpd, and, optionally, PHP and MySQL, on Microsoft Windows, include:

Customizing Apache for Windows
Apache is configured by the files in the conf subdirectory. These are the same files used to configure the Unix version, but there are a few different directives for Apache on Windows. See the directive index for all the available directives.
The main differences in Apache for Windows are:
Because Apache for Windows is multithreaded, it does not use a separate process for each request, as Apache can on Unix. Instead there are usually only two Apache processes running: a parent process, and a child which handles the requests. Within the child process each request is handled by a separate thread.
The process management directives are also different:
The directives that accept filenames as arguments must use Windows filenames instead of Unix ones. However, because Apache may interpret backslashes as an «escape character» sequence, you should consistently use forward slashes in path names, not backslashes.
When running, Apache needs write access only to the logs directory and any configured cache directory tree. Due to the issue of case insensitive and short 8.3 format names, Apache must validate all path names given. This means that each directory which Apache evaluates, from the drive root up to the directory leaf, must have read, list and traverse directory permissions. If Apache2.4 is installed at C:\Program Files, then the root directory, Program Files and Apache2.4 must all be visible to Apache.
Apache for Windows contains the ability to load modules at runtime, without recompiling the server. If Apache is compiled normally, it will install a number of optional modules in the \Apache2.4\modules directory. To activate these or other modules, the LoadModule directive must be used. For example, to activate the status module, use the following (in addition to the status-activating directives in access.conf ):
Information on creating loadable modules is also available.
Apache can also load ISAPI (Internet Server Application Programming Interface) extensions such as those used by Microsoft IIS and other Windows servers. More information is available. Note that Apache cannot load ISAPI Filters, and ISAPI Handlers with some Microsoft feature extensions will not work.
When running CGI scripts, the method Apache uses to find the interpreter for the script is configurable using the ScriptInterpreterSource directive.

Running Apache as a Service
Apache comes with a utility called the Apache Service Monitor. With it you can see and manage the state of all installed Apache services on any machine on your network. To be able to manage an Apache service with the monitor, you have to first install the service (either automatically via the installation or manually).
You can install Apache as a Windows NT service as follows from the command prompt at the Apache bin subdirectory:
If you need to have specifically named configuration files for different services, you must use this:
Removing an Apache service is easy. Just use:
The specific Apache service to be uninstalled can be specified by using:
Normal starting, restarting and shutting down of an Apache service is usually done via the Apache Service Monitor, by using commands like NET START Apache2.4 and NET STOP Apache2.4 or via normal Windows service management. Before starting Apache as a service by any means, you should test the service's configuration file by using:
You can control an Apache service by its command line switches, too. To start an installed Apache service you'll use this:
To stop an Apache service via the command line switches, use this:
You can also restart a running service and force it to reread its configuration file by using:
By default, all Apache services are registered to run as the system user (the LocalSystem account). The LocalSystem account has no privileges to your network via any Windows-secured mechanism, including the file system, named pipes, DCOM, or secure RPC. It has, however, wide privileges locally.
It is recommended that users create a separate account for running Apache service(s). If you have to access network resources via Apache, this is required.
If you allow the account to log in as a user and as a service, then you can log on with that account and test that the account has the privileges to execute the scripts, read the web pages, and that you can start Apache in a console window. If this works, and you have followed the steps above, Apache should execute as a service with no problems.
When starting Apache as a service you may encounter an error message from the Windows Service Control Manager. For example, if you try to start Apache by using the Services applet in the Windows Control Panel, you may get the following message:
Could not start the Apache2.4 service on \\COMPUTER
Error 1067; The process terminated unexpectedly.
You will get this generic error if there is any problem with starting the Apache service. In order to see what is really causing the problem you should follow the instructions for Running Apache for Windows from the Command Prompt.
If you are having problems with the service, it is suggested you follow the instructions below to try starting httpd.exe from a console window, and work out the errors before struggling to start it as a service again.

Running Apache as a Console Application
Running Apache as a service is usually the recommended way to use it, but it is sometimes easier to work from the command line, especially during initial configuration and testing.
To run Apache from the command line as a console application, use the following command:
Apache will execute, and will remain running until it is stopped by pressing Control-C.
If Apache is running as a service, you can tell it to stop by opening another console window and entering:
Running as a service should be preferred over running in a console window because this lets Apache end any current operations and clean up gracefully.
But if the server is running in a console window, you can only stop it by pressing Control-C in the same window.
You can also tell Apache to restart. This forces it to reread the configuration file. Any operations in progress are allowed to complete without interruption. To restart Apache, either press Control-Break in the console window you used for starting Apache, or enter
if the server is running as a service.
c:
cd «\Program Files\Apache Software Foundation\Apache2.4\bin»
httpd.exe
Then wait for Apache to stop, or press Control-C. Then enter the following:
When working with Apache it is important to know how it will find the configuration file. You can specify a configuration file on the command line in two ways:
-f specifies an absolute or relative path to a particular configuration file:
-n specifies the installed Apache service whose configuration file is to be used:
In both of these cases, the proper ServerRoot should be set in the configuration file.
Apache will then try to determine its ServerRoot by trying the following, in this order:
If you did not do a binary install, Apache will in some scenarios complain about the missing registry key. This warning can be ignored if the server was otherwise able to find its configuration file.
The value of this key is the ServerRoot directory which contains the conf subdirectory. When Apache starts it reads the httpd.conf file from that directory. If this file contains a ServerRoot directive which contains a different directory from the one obtained from the registry key above, Apache will forget the registry key and use the directory from the configuration file. If you copy the Apache directory or configuration files to a new location it is vital that you update the ServerRoot directive in the httpd.conf file to reflect the new location.

Testing the Installation
After starting Apache (either in a console window or as a service) it will be listening on port 80 (unless you changed the Listen directive in the configuration files or installed Apache only for the current user). To connect to the server and access the default page, launch a browser and enter this URL:
Apache should respond with a welcome page and you should see «It Works!». If nothing happens or you get an error, look in the error.log file in the logs subdirectory. If your host is not connected to the net, or if you have serious problems with your DNS (Domain Name Service) configuration, you may have to use this URL:
If you happen to be running Apache on an alternate port, you need to explicitly put that in the URL:
Once your basic installation is working, you should configure it properly by editing the files in the conf subdirectory. Again, if you change the configuration of the Windows NT service for Apache, first attempt to start it from the command line to make sure that the service starts with no errors.
Because Apache cannot share the same port with another TCP/IP application, you may need to stop, uninstall or reconfigure certain other services before running Apache. These conflicting services include other WWW servers, some firewall implementations, and even some client applications (such as Skype) which will use port 80 to attempt to bypass firewall issues.

Configuring Access to Network Resources
Access to files over the network can be specified using two mechanisms provided by Windows:
Mapped drive letters e.g., Alias «/images/» «Z:/» UNC paths e.g., Alias «/images/» «//imagehost/www/images/»
Mapped drive letters allow the administrator to maintain the mapping to a specific machine and path outside of the Apache httpd configuration. However, these mappings are associated only with interactive sessions and are not directly available to Apache httpd when it is started as a service. Use only UNC paths for network resources in httpd.conf so that the resources can be accessed consistently regardless of how Apache httpd is started. (Arcane and error prone procedures may work around the restriction on mapped drive letters, but this is not recommended.)
Example DocumentRoot with UNC path
Example DocumentRoot with IP address in UNC path
Example Alias and corresponding Directory with UNC path
When running Apache httpd as a service, you must create a separate account in order to access network resources, as described above.

Windows Tuning
If more than a few dozen piped loggers are used on an operating system instance, scaling up the «desktop heap» is often necessary. For more detailed information, refer to the piped logging documentation.

Comments
Copyright 2020 The Apache Software Foundation.
Licensed under the Apache License, Version 2.0.