10 free Typing Software for Windows 10 PC
It would not be wrong to say that Typing has now taken precedence over writing with pen and paper. Most of us are involved in works that require us to type things out on computers. More than often typing speed determines the level of your productivity and this is where free Typing software and online lessons for Windows 10/8/7 PC come into the picture.
Free Typing Software for Windows 10
Let us take a look at them.
1. Rapid Typing Tutor
Rapid Typing Tutor is basic yet useful software that helps improve your typing skill. Rapid typing not only helps increase the speed of typing but also increases the precision with which you type. All of this is enabled by offering a set of simulated keyboards available across various languages like Spanish, Russian, German, French, Dutch and English. Download from the official website.
2. KeyBlaze
The best part about KeyBlaze is its intuitive user interface. This software has been built to cater to both beginners and intermediate levels.
3. Typing.com
Unlike the others on the list, typing.com is a website that offers super cool tips and tricks that help in learning to type. As users, you can choose between 1-minute, 3-minute, and 5-minute typing test and thus improve your speed and accuracy. I would recommend typing.com for folks who want to learn to type in the shortest amount of time possible. You can use Typing.com here.
4. JustType
JustType is one of the most comprehensive typing software. Now JustType focusses on a different type of technique to teach typing. The TouchTyping will help you familiarize yourself with the on-screen keyboard without having to depend on other tutors. Moreover, all the keys pressed on the real keyboard will be highlighted on the on-screen keyboard. This lets you see all the misprints and correct your errors. You can download JustType from the official homepage.
5. TutorType
TutorTyepe comes with a clean user interface and then this makes the learning very easy. The software helps you achieve better proficiency and will also help you learn to type without looking at the keyboard. Moreover, the tool also adds words to dictionary thus helping you concentrate on the primary task of learning how to type. Download TutorType here.
6. Typing.io
typing.io is very different from the other programs in this list. This one is aimed at helping programmers hone their typing skills. We need to understand the speed of coding for programmers also depends on their speed of writing. typing.io helps coders learn to type special characters that are used during coding.
The lessons offered by typing.io are based on opensource code thus allowing you to practice the key sequences that are similar to the ones on the real code. In other words, typing.io helps programmers focus on improving typing skills by providing feedback and accuracy reports. In order to access this tool, all one needs to do is head over to the link and Sign in With Google account.
7. Typing Bolt
Typing Bolt is an online typing tutor that is backed by Artificial Intelligence. The AI algorithm works in the background to study typing patterns and track users' levels. Once this is done the tool offers a customized typing course that is different for every user.
Unlike other typing tutors, this one is not based on repeating the same word again and again. Instead, the Typing Bolt offers words that are often used in real-life scenarios. In the background, the Bolt AI will set the difficulty level by automatically analyzing your typing skills.
Lastly, the Real-Time Analytics Reports will provide a graphical representation of your performance and also motivates you to achieve better results. Typing Bolt can be downloaded from the homepage.
8. Typing Fingers
Typing Fingers focusses on the essential and is based on the Touch typing method. Touch Typing helps you to increase typing speed and accuracy. Moreover, this method is said to help boost creative thinking. While touch typing you don't have to move neck and glance at the keyboard every now and then.
Typing Fingers also includes mini-games that will help increase your typing speed and teach the touch typing method. Download Typing Fingers from the Microsoft Store.
9. Typing Club
Typing Club is free for both individuals and schools. The web tool works by offering everyday lesson and once you are a pro you will be awarded a 5-star rating. The Typing Club is intuitive and interactive. I personally liked how the service offers Levels, Badges, and stars as you move up the ladder. Access Typing Club by heading over to the official homepage.
10. Tipp 10
Tipp 10 comes is offered as a web service and also as standalone software. The software boasts of an easy user interface and preaches touch typing. As far as practice lessons are concerned they are very efficient in helping you learn to type. Furthermore, Tipp 10 also offers a progress tracker and has is the test winner at the Stiftung Warentest in Germany. Download Tipp 10 from the official homepage.
TIP: Stamina Typing Tutor is an amusing, funny and a user-friendly typing program with a nice interface. You might want to check it out as well.
Date: January 19, 2019 Tags: Freeware
Related Posts
Reduce distractions in Windows 10 using these free tools; Blackout parts of computer screen!
Best free Logic Gate simulator software for Windows 10
Best free ePub to PDF converter tools for Windows PC
[email protected]
Mahit Huilgol is a Windows enthusiast, a blogger & a keen follower of everything Microsoft. He loves to keep a track of the Windows ecosystem and enjoys covering Windows 10 features & freeware.
How to change the keyboard language on Windows 10
Approximately half of the world population is bilingual, so knowing how to change the keyboard language on Windows 10 is important to many users. Furthermore, you may want a computer keyboard layout that's comfortable and helps you type faster in the chosen input language. This guide illustrates how to add a language to keyboard and how to switch between keyboards in Windows 10, including details on the keyboard shortcuts used to change layouts and languages. We use a Spanish keyboard layout to show you how it's done, but the steps are the same if you need a Russian keyboard layout, a Korean keyboard layout, or any other keyboard language in Windows 10. There's a lot to cover, so let's get started:
Quick Steps:
NOTE: This tutorial was created using Windows 10 October 2020 Update. To find out which version you have installed, read our guide on How to check the Windows 10 version, OS build, edition, or type.
How to add a language to keyboard in Windows 10
When you install Windows 10 on your computer or device, you are prompted to choose a computer keyboard layout. However, if you didn't configure the operating system yourself, or if you want more input languages, it's easy to add a keyboard language to Windows 10.
First, open the Settings app by pressing Windows + I on your keyboard, and then click or tap on Time & Language.
In Windows 10 Settings, access Time & Language
From the left column, press on the Language tab, and then, on the right, look under Preferred languages for your desired Windows 10 keyboard language. The Preferred languages list shows the languages installed on your Windows 10 device. If the input language you want is already listed here, skip to the next chapter to decide if you want to use a standard keyboard layout for it. However, if you can't find it in the list, click or tap on the "Add a language" option.
How to add another language to keyboard in Windows 10
This opens an alphabetical list of all the languages available in Windows 10. You can scroll through it, but it might take too long to find the Windows 10 keyboard language you want.
You can change the keyboard language in Windows 10 to most of the available options
Select your desired Windows keyboard language and press Next
TIP: When you add a keyboard language to Windows 10, next to some entries, you might notice up to four icons, which are briefly explained at the bottom of the window. To learn more about the language packs that include these optional features and how they're relevant, check out our guide on changing the display language in Windows 10.
On the "Install language features" page, you can see the available options for the selected language. The "Optional language features" we mentioned above take up space on your hard drive. Unless you need them, our advice is to uncheck them. However, Basic typing must be displayed under "Required language features" if you want to add the language to keyboard, so make sure it's there, and then click or tap on Install.
In Windows 10, add a keyboard language by installing Basic typing for it
It might take a few moments for the Windows 10 keyboard language to download and install, but you can then see it on the Language settings page, under Preferred languages.
In Windows 10, add a keyboard language to display it under Preferred languages
The Basic typing (abc) icon indicates it's already added as an input language in Windows 10. However, before we explain how to change your keyboard language as you type, let's set the keyboard layout.
How to add a keyboard layout for your input language
The keyboard layout controls which letters and symbols are assigned to each key for the selected language. While this might not seem like a big deal to most users, if you need to type a lot, a comfortable keyboard layout can make all the difference. In the Language settings, press on one of your input languages to reveal additional buttons under it. Then, click or tap on Options.
TIP: You can also press the Remove button on the right to immediately remove the keyboard language from Windows 10.
Access Options to change your computer keyboard layout
The Keyboards section displays the current layout for the selected language. To see more alternatives, click or tap on the "Add a keyboard" button.
For another keyboard layout, press Add a keyboard
Choose the Spanish keyboard layout you prefer in Windows 10
The new keyboard setup is immediately added in the Keyboards section, right under the original layout. Unless you know exactly how each of them works, we recommend keeping both for now. You can use the instructions in the next chapter to test them out and figure out which one you like best. However, once you know exactly what you're looking for, you can click or tap on the keyboard layout you want to delete and press Remove.
Remove a Spanish keyboard layout in Windows 10
How to switch between keyboards in Windows 10
Press on the new abbreviated language icon to reveal the language bar in Windows 10
This opens the Windows 10 language bar, which shows every installed keyboard layout in a list. Click or tap on the input language you want to use.
How to change the keyboard language in Windows 10 with two clicks or taps
The selected language is now active, and the Windows language bar collapses. The icon changes to reflect we're currently using the Spanish keyboard layout.
The language bar in Windows 10 collapses, but the input language is shown in the system tray
You can also access the Windows 10 language bar using three keyboard shortcuts.
Use Windows + Spacebar to change the keyboard language or layout
Press Windows + Spacebar, and the next keyboard layout in the list becomes active, briefly displaying the Windows 10 language bar.
How to change the language on keyboard using Win + Spacebar
Continue to hold down the Windows key afterward, and the language bar remains on your screen. Each time you press Spacebar, Windows 10 switches between the installed layouts. Release both buttons when you've made your choice. Alternatively, you can also abandon the Spacebar and, instead, click or tap on the input language you want from the language bar, while holding down the Windows button. Your desired layout is activated, and the Windows 10 language bar collapses.
Use Left Alt + Shift to change the keyboard language
Another shortcut to change the keyboard language is Left Alt + Shift.
The change keyboard language shortcut in Windows 10
You can use this shortcut precisely like the first one, by pressing-and-holding the Left Alt key while hitting Shift to switch the active input language to the next one. However, keep in mind that you can only switch the input language, not the keyboard layout. So, if you added multiple layouts for the same language, this keyboard shortcut can only change to the last keyboard layout used, completely ignoring the other one(s). However, you can also click or tap on any option displayed in the language bar to activate it, as explained above.
Use Ctrl + Shift to change the keyboard layout for a language
The last keyboard shortcut you can use is Ctrl + Shift.
The keyboard shortcut to switch the layout
The least popular of the three, this shortcut only works for changing between the keyboard layouts installed for the same language. You can use it just like the other two (you hold Ctrl and press Shift to switch), but it won't do anything unless you have multiple layouts added for the same Windows keyboard language, and one of them is active.
To clarify, in the image below, you can use this shortcut only to switch between the two keyboard layouts at the bottom. Furthermore, one of them has to be active in the system tray, or nothing happens.
Use Ctrl + Shift to change to the other Spanish keyboard layout
How many keyboard input languages and layouts do you use?
Because I write every guide in two languages, it's essential to know how to change my keyboard language as fast as possible in Windows 10. I hope you use the tricks and tips in this article to make typing comfortable, no matter what keyboard layout or language you're using. Before you close this guide, I'm curious which keyboard input languages you added on your Windows 10 computer or device. Are you using the German keyboard layout or one that's less-popular, like the Japanese keyboard layout? How many keyboard layouts and input languages are you currently using in Windows 10? Leave your story in the comments.
How to use Windows 10 PC – Basic tutorial & tips for beginners
This guide is meant for users who have just started using Windows 10 OS and will also help the seniors who may be new to the PC. It will show you how to use Windows 10 – right from how to sign-in, to how to shut down your PC. Windows 10 is undoubtedly a bit different than the earlier versions of Windows, especially for the absolute beginners. When I say the absolute beginners I mean the new PC users and the grannies and grandpas who may have just started using the computer. In this post, I will share some basic tips for using Windows 10.
How to use Windows 10 PC
You should always ensure that your laptop battery is charged properly so that you do not run out of power at the wrong time. If you are using a desktop, make sure you use a battery backup as well.
1] How to sign in to your computer
When you start your Windows 10 PC by pressing the Power button, you will see a login screen; The PC asks you to unlock the screen and then sign in. You just have to click on your name and type your password (if you set it) to get in. If the computer is being used by various users, check on the lower-left corner of the screen and you will get the list of users on the PC.
On the right side, you see some icons, hover over them with your mouse cursor and you will get and an idea of what they are there for.
2] Desktop and Start Menu
(Click on the image to see the larger version)
Once you are signed in, you will be at the Desktop, which is the basic overview of your PC. You can open all your files, folders and applications from here. You will see some icons and the Taskbar at the bottom of the screen that has some more icons and the Start button in the extreme left corner.
To open any of your applications or programs on the PC, you need to use the Start Menu. Just click on the Start button on the lower-left corner of your screen, and it will display a window with all your apps, games and programs installed on the PC. Select any app you want and open it. All apps here are alphabetically categorized, and thus it is very easy to find an app.
Play around a bit to get the hang of it.
Further reading: How to customize the Start Menu.
3] Windows File Explorer
This is the file manager of your computer using which you can access all your files, data, pictures and folders. To open your files and folders in the PC, you need to go via File Explorer.
You can either use the keyboard shortcut Ctrl+E to open the File Explorer or can click the icon in your taskbar.
Once the File Explorer is open, you can double click on any folder to open it.
4] How to make icons look larger in File Explorer
You can view the folder icons in a listed form or a grid form. Also, the icons in the grid form are small in size by default. However, you can easily view them as medium icons, large icons or extra-large icons.
Just click on the View tab in the menu ribbon above and select the size you want.
Read: How to Cut or Copy and Paste using keyboard or mouse.
5] How to find your files in Windows 10 PC
One of the most common issues is that we often forget that which particular file is stored in which folder. So we have a very simple tip for that too. You do not need to browse the entire PC and documents to find a particular file. Just make sure you remember the name of that file and type it in the search box in the lower left corner. The system will automatically display the files with matching names, and you can select and open the file you want.
6] How to open Notepad or Word Document
Notepad and Word are the two most commonly used programs for writing. There are many ways to open a Text Document or Notepad in Windows 10 PC; I am mentioning the simplest ways here.
Type Notepad in the search bar in the lower-left corner of your PC, next to the Start button, and you will see the results. Click on Notepad to open it. You can open any program this way.
To open programs, you can also open the Start Menu, scroll down to W, click on Windows Accessories and select Notepad.
If you often use Notepad in your PC, it is always better to pin it to the Start Menu or the Task Bar for the quick and easy access.
To pin the Notepad in Start Menu or Taskbar, just type Notepad in the search box, select it, right-click and select Pin to Start or Pin to Task Bar, and you are done.
Once pinned you can open it directly from the Start Menu or the Taskbar.
7] How to use Cortana in Windows 10 PC
Cortana is your virtual assistance in Windows 10 PC. She will help you doing chores in your PC. You can speak to her, and she will help you. To open Cortana, Press Win+S. Click on the microphone icon and start commanding. You can also type give your commands if you don't want to speak. Just give commands and watch her doing magic.
8] Desktop icons too small?
As mentioned earlier, this post is also for the senior citizens, and with them, eyesight is a problem. They might find the default desktop icons too small to read but not to worry; you can increase the size in just a few clicks. Rightclick your mouse and click on View and select Large Icons. That's it! You will now see the enlarged icons on your desktop.
9] Text Too Small?
You may also want to increase the text size in your Windows 10 PC. This is again very simple and a matter of few clicks.
Right-click your mouse and click on Display Settings. This will open a new window. Click on 'Change the size of text, apps, and other items' and increase it.
10] How to connect to the Internet
When we are using a computer, we need an internet connection too. While it is quite simple to connect with the WiFi or Ethernet connection, absolute beginners might need some help. Although, if there is a WiFi connection at home or office the devices usually are already connected, if you still have to do it manually, need not worry.
To set up an internet connection, go to the most right corner of your taskbar; there you will see a Network icon – it could be a WFi or an Ethernet icon. Click on it, and it will open a small window. Find your network and click on Connect. If your WiFi is password protected, which it would certainly be, you will need a password to connect. Your WiFi icon will light up if you have successfully established the connection. If you see a yellow exclamation mark or a red cross with the WiFi icon, there is some fault at the modem or Wifi connection. Seek some technical help in that case.
11] How to surf the internet
Now when your PC is connected to the internet, you certainly want to browse the internet. For that, you need a browser installed on your PC. Microsoft Edge, the default Microsoft browser is installed in every Windows 10 PC. Open the Start Menu by pressing the Windows icon and click on Microsoft Edge. This will open the web browser, and then you can start browsing the internet.
12] How to shut down the PC
Now when you have learned how to start the PC and use it, you should also know how to shut down your PC. There are again quite a few ways to shut down your PC, but I have covered the two main ones. Never turn off the power button directly, you have to shut down the PC in a proper way for its smooth functioning.
1] Right-click on the Start Button to open the WinX Menu.
Press on Shutdown or sign-out link and the options to Sign out, Sleep, Shut down and Restart will pop up. Click on Shut down to power down the computer.
2] You could also click on the Start button to open the Start Menu. On the lower-left corner, you will see a power button.
Click on that button, and you will get these three options- Shut Down, Restart, and Sleep. Click on Shut down and wait for PC to turn off.
If you need to read further this Windows 10 Tips and Tricks post is sure to interest you. Moreover, these cool one-liner quick tips to a faster way of working with Windows 10 are sure to interest you. You could also download these Windows 10 Guides for Beginners or this Quick Start Guide to Windows 10 from Microsoft. If you have a specific query in mind, you could search for it by click here.
I hope this helps beginners. If I have missed any important points or if you still have any queries, please drop a comment below, and we will try to help you out.
Date: February 7, 2020 Tags: Beginners, Guide
Windows 10 basic typing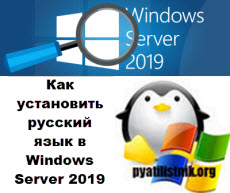 Добрый день! Уважаемые читатели и гости крупного IT блога России Pyatilistnik.org. В прошлый раз я вам показал решение проблемы, когда диск защищен от записи и вы не можете его отформатировать. Сегодня мы переключимся от темы утилит и рассмотрим вопрос по русификации Windows Server 2019. Данная серверная операционная система на текущий момент флагманская у Microsoft и думаю многие столкнуться с данной задачей, так что приступаем. Подразумевается, что у вас уже установлена Windows 2019.
Причина русификации Windows Server 2019
Как сделать русский интерфейс в Windows Server 2019
Как и в предыдущих версиях операционной системы, будь то клиентская или серверная версия, компания Micriosoft для установки русского языка (Локализация) предоставляет два варианта:
Локализация Windows Server 2019 через установку пакета KB
Данный метод установки русского языка, на мой взгляд самый простой и подойдет самым ленивым администраторам, особенно у тех у кого в компании есть WSUS-сервер, позволяющий его адрес закинуть в политику и распространить ее на нужные сервера. И так нам нужно попасть в языковые настройки системы. Сделать, это можно очень просто, открыв кнопку пуск и кликнув по шестеренке «Settings», либо нажав полезную комбинацию клавиш WIN и I.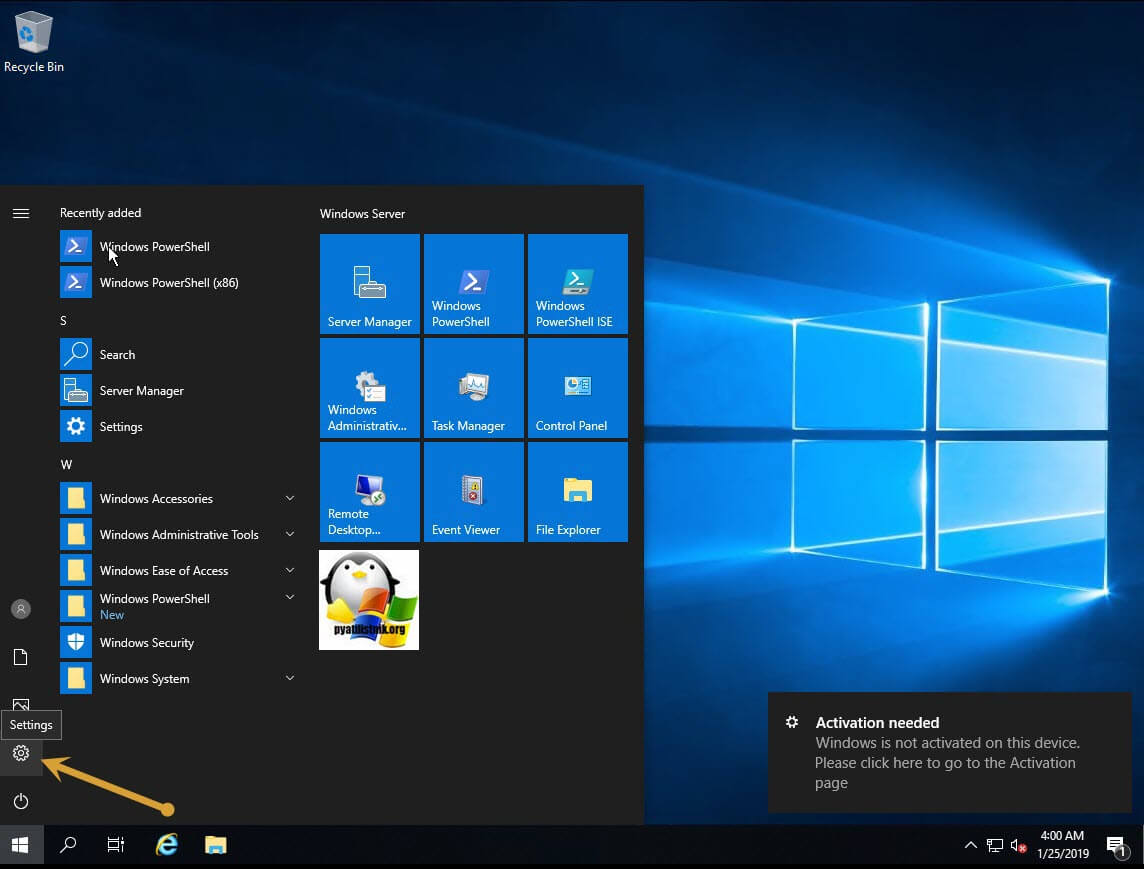 В результате у вас откроется со всеми настройками в системе (Windows Settings). Вам необходимо найти пункт «Время и язык (Time & language)»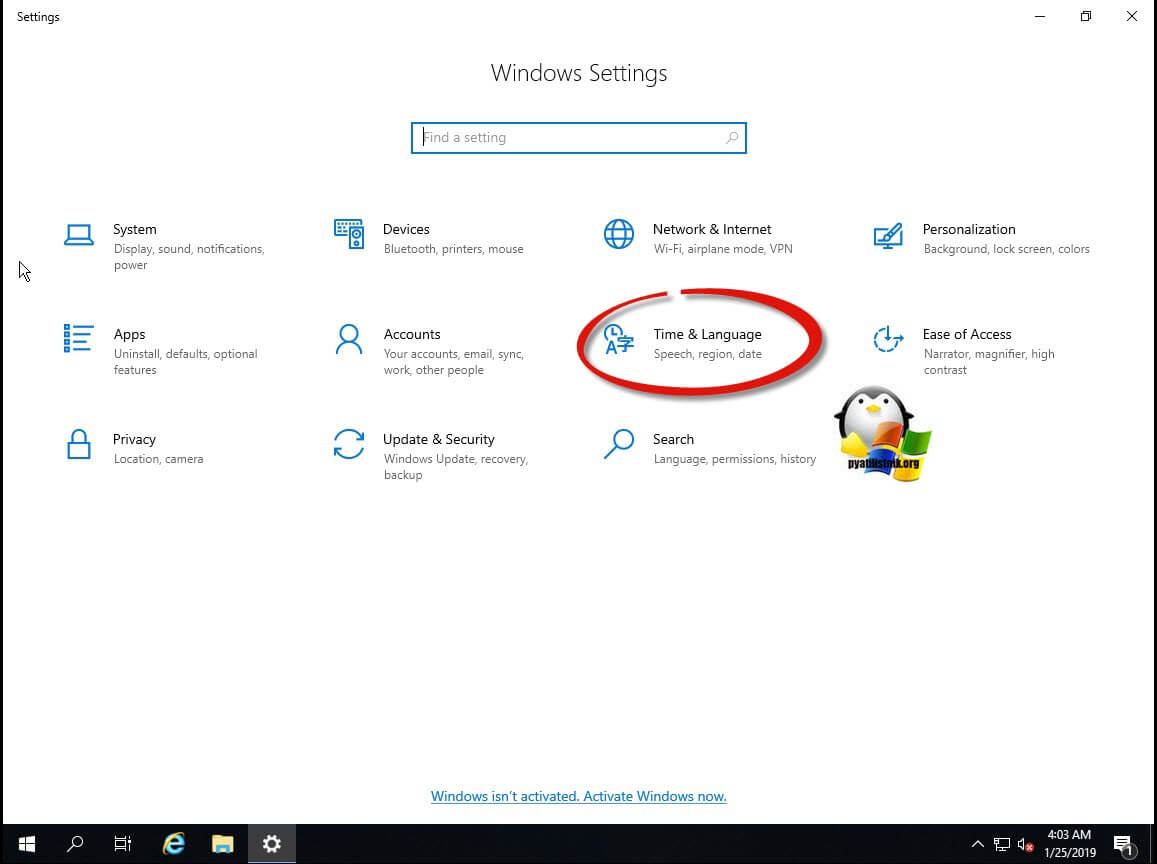 Переходим в пункт «Язык (Language)». Тут у вас будет список установленных языков в системе. Так как у меня это английская версия, то и есть только он. Чтобы добавить в меню выбора еще и русский язык, вам необходимо нажать соответствующую кнопку «Add a language». Именно она позволит выбрать дополнительные языковые пакеты.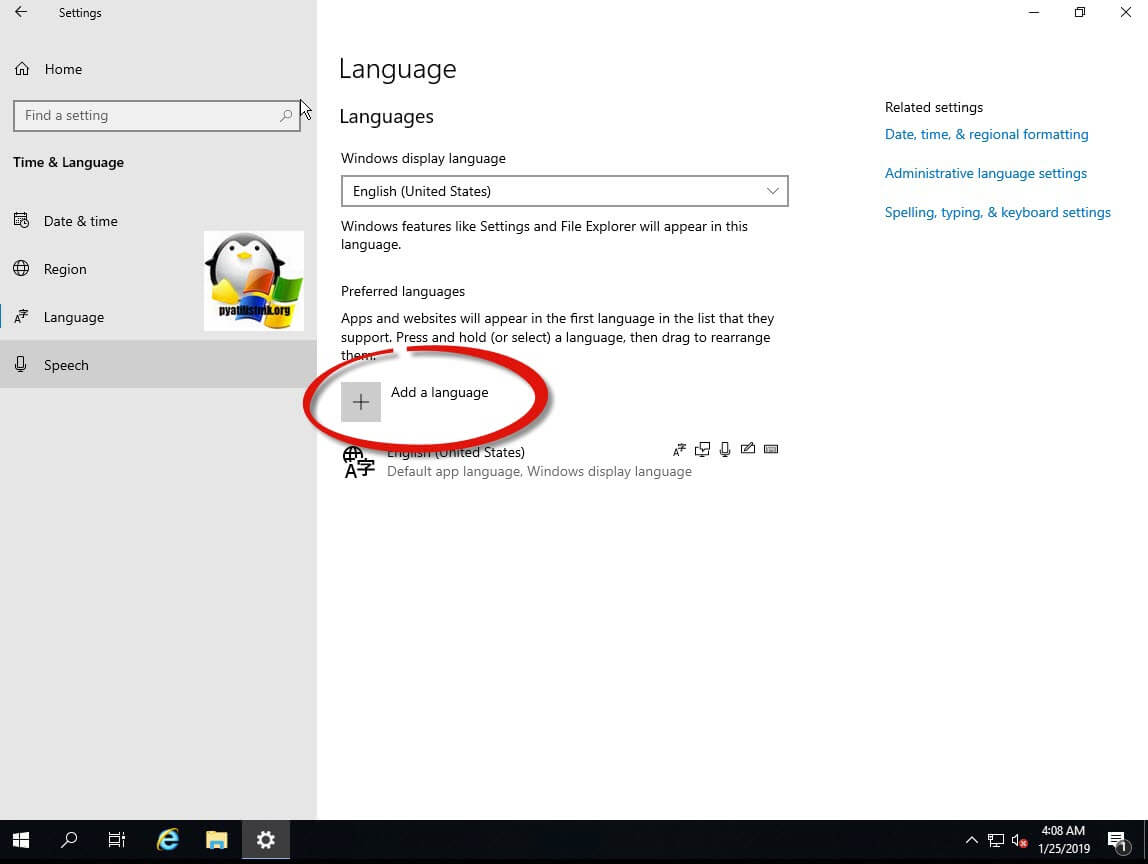 У вас откроется окно выбора пакетов «Choose a language to install». Хочу отметить, что языков и диалектов очень много, поэтому советую в поисковой строке в самом верху вбить аббревиатуру RUS, вы сразу найдете пакет русской локализации. Нажимаем «Next».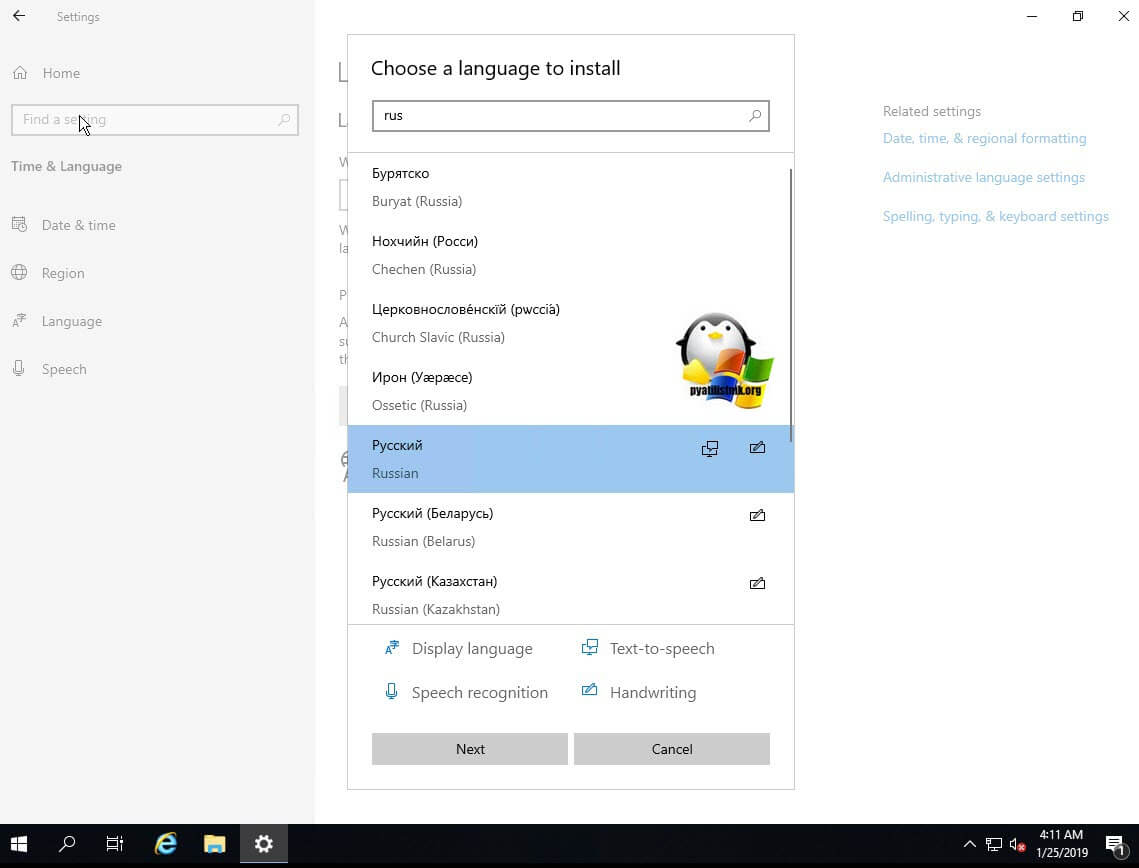 Для продолжения установки нажмите кнопку «Install».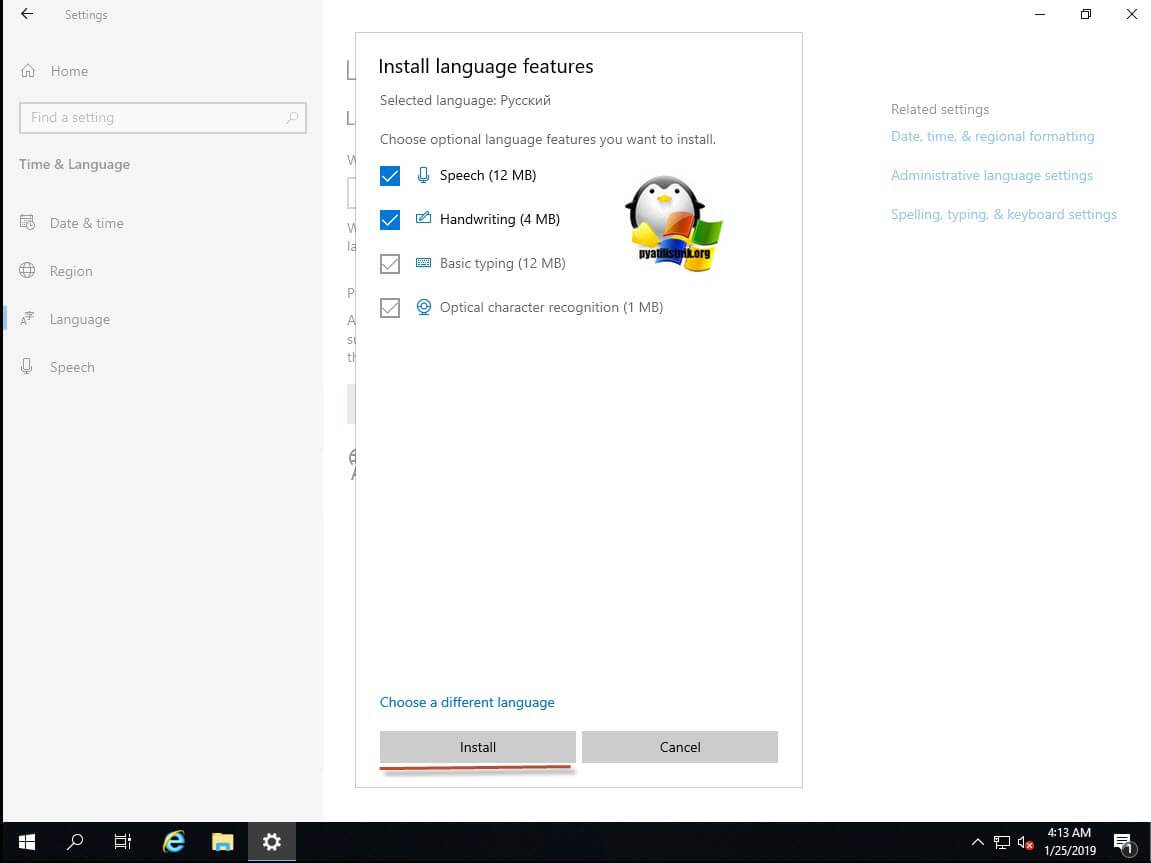 В итоге на окне выбора языков, у вас появится русский пакет.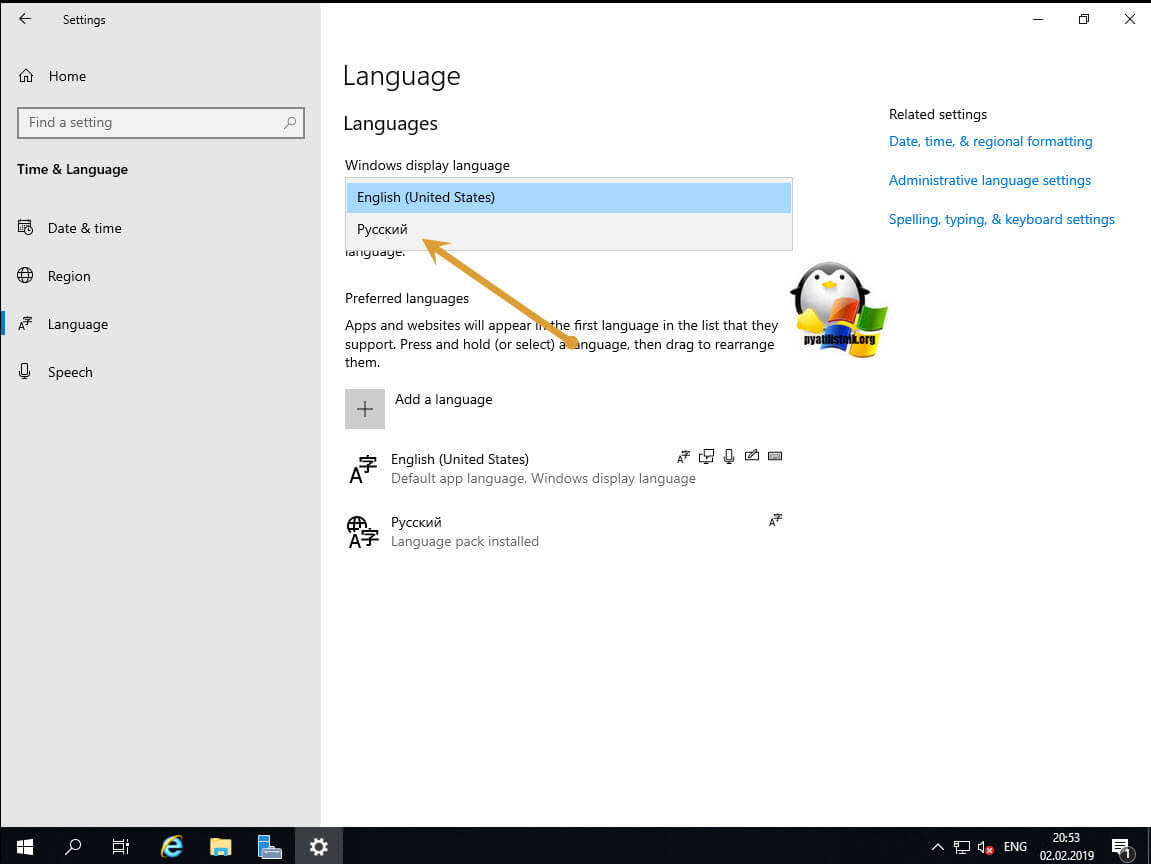 Обратите внимание, что вам тут говорят, что изменения интерфейса будут после перезагрузки «Will be display language after next sign-in». Выберите его и нажмите кнопку «Параметры (Options)».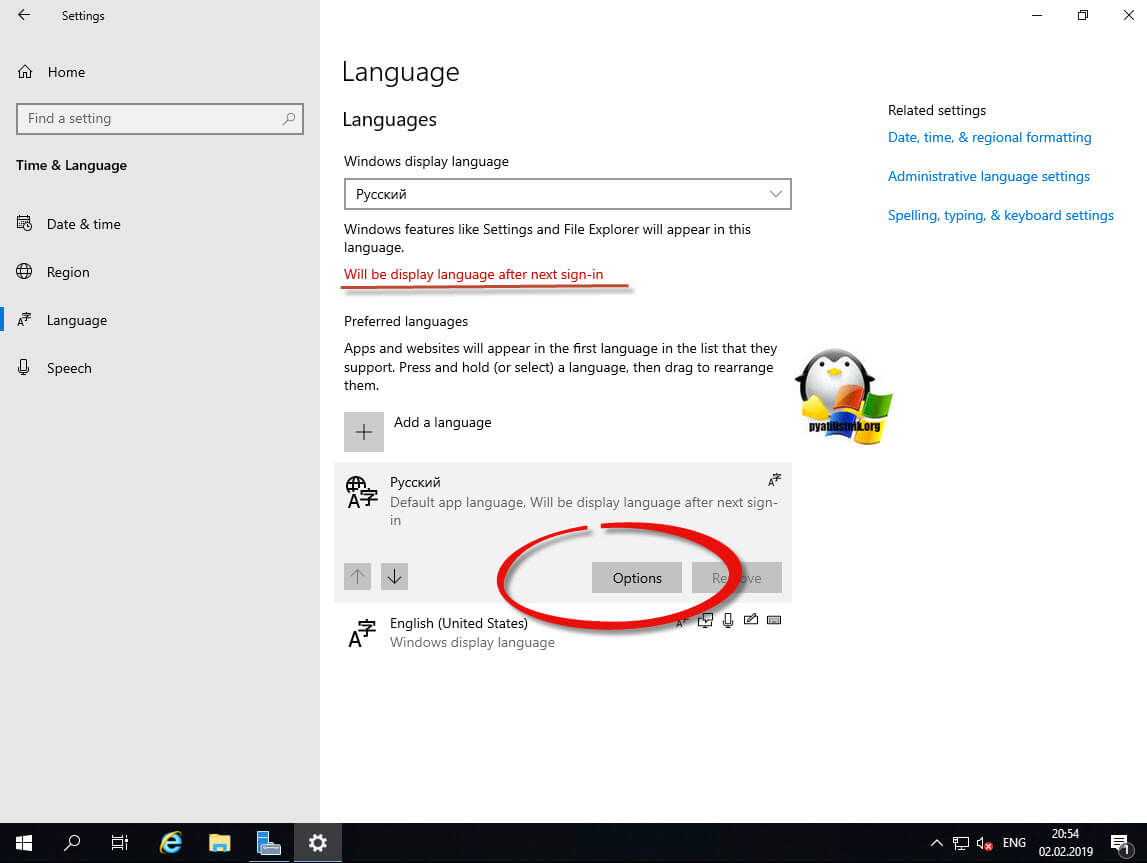 Удостоверьтесь, что у вас установлены все компоненты языкового пакета. В некоторых случаях может возникать ошибка «Error code: 0x0«.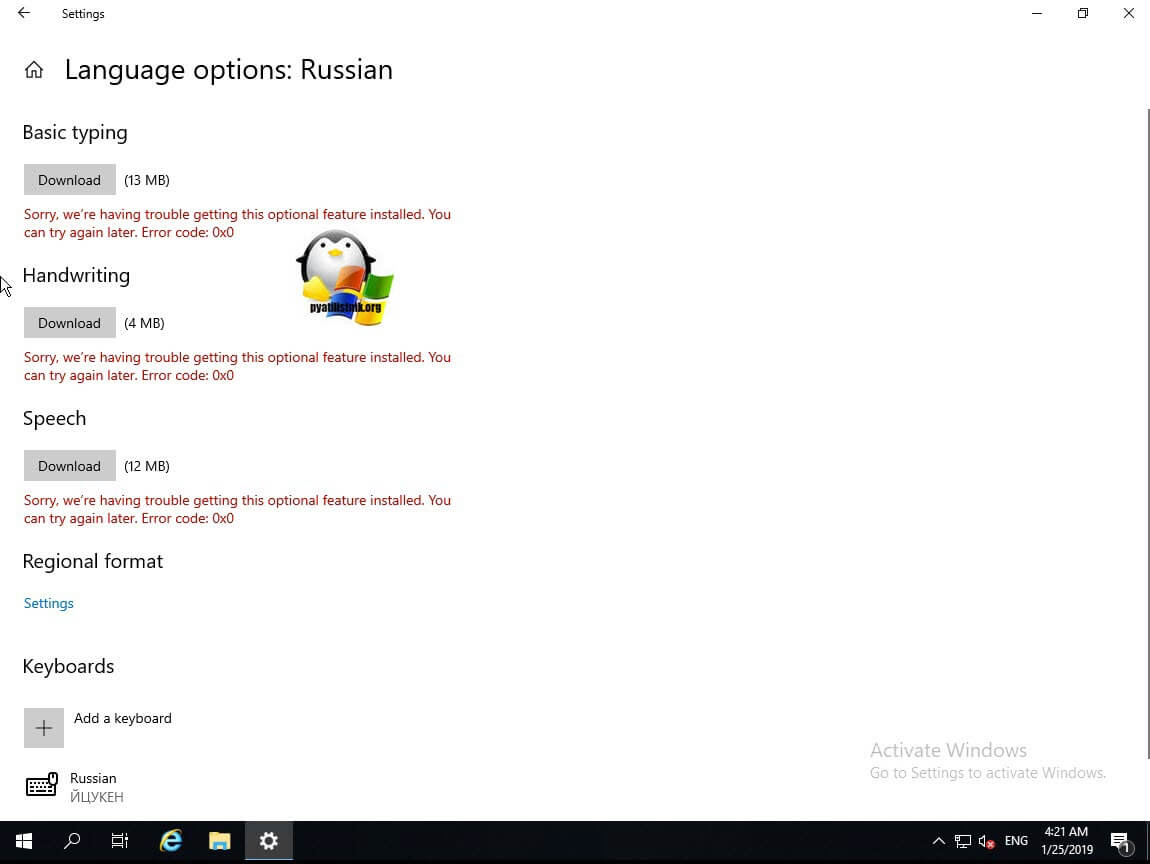 Или ошибку 0x00F0950, если она у вас появилась, то вам нужно приступать ко второму методу, так как это недоработка Microsoft, о которой они пишут вот тут (https://support.microsoft.com/ru-ru/help/4466511/cannot-configure-language-pack-for-windows-server-2019).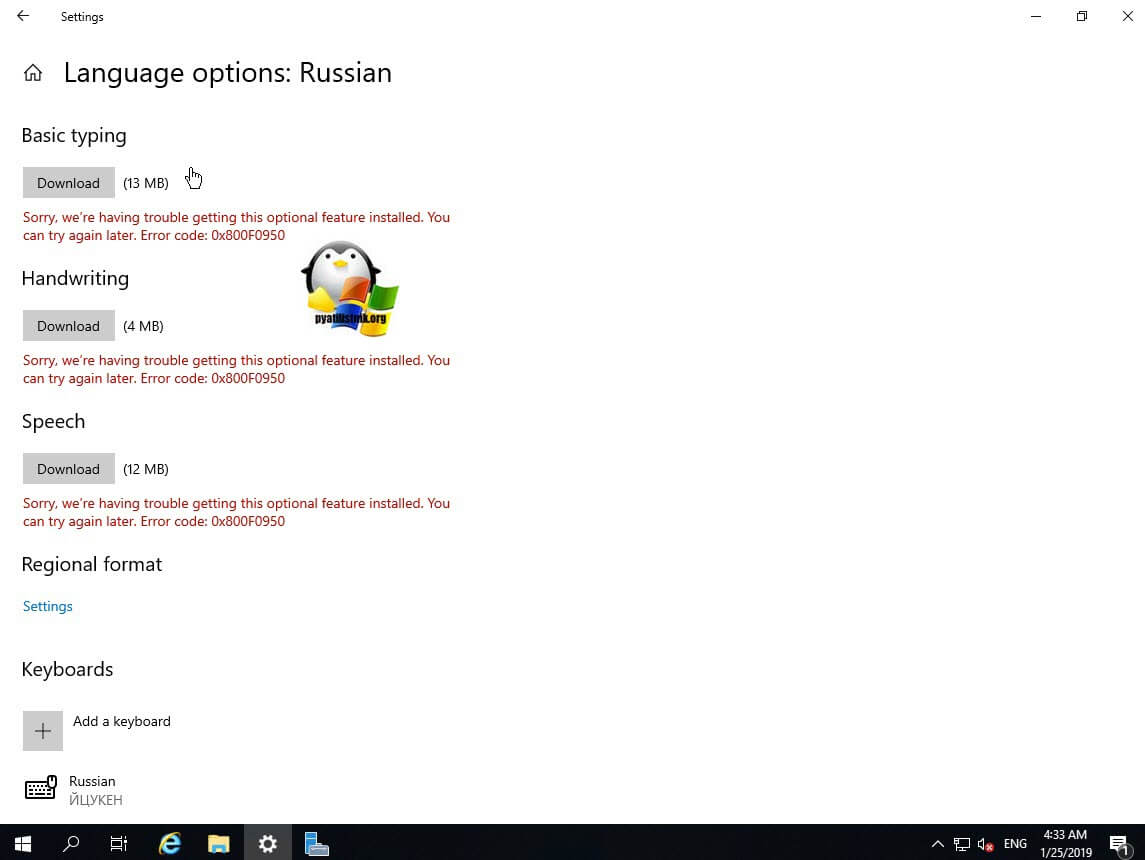 Далее вам нужно сделать русский язык по умолчанию, для этого выберите его и стрелкой переместите вверх. Переходим в пункт «Регион (Region)». Тут выставите в: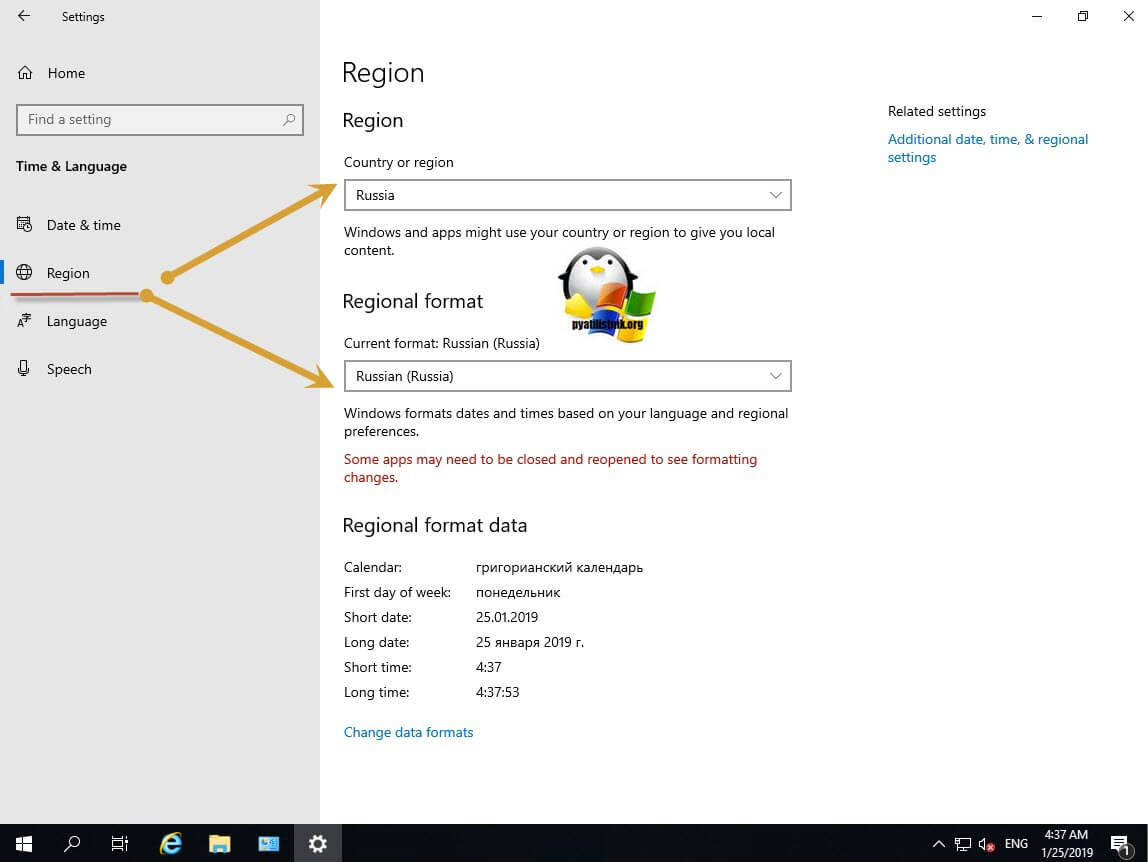 В правом верхнем углу будет ссылка на дополнительные настройки для времени и региональных форматов (Additional date, time & regional settings). Его так же можно найти в панели управления (Control Panel), это пункт Region. Обратите внимание, что тут теперь нет пункта Language, через который так же можно было менять и локализовывать интерфейс Windows Server.
Убедитесь, что на вкладке «Formats» установлен русский формат. На вкладке «Administrative» нажмите кнопку «Copy settings». Поставьте в самом низу две галки: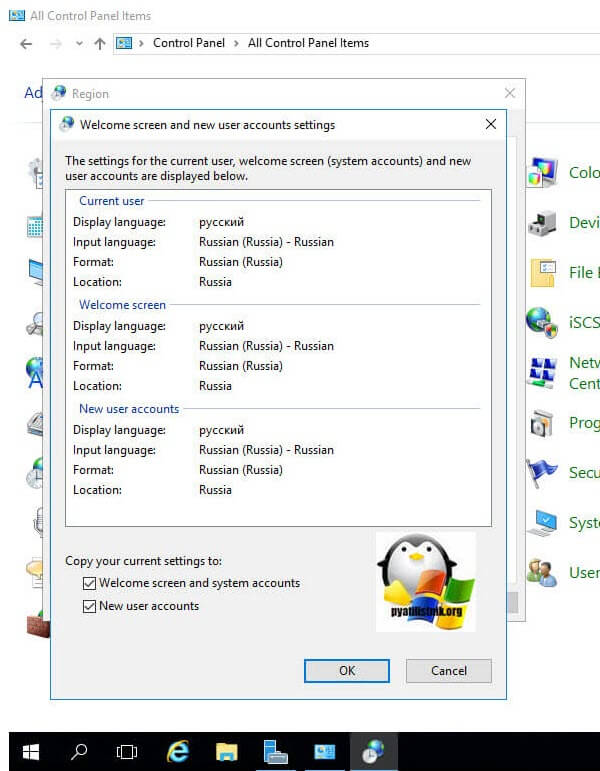 Следующим шагом нажмите кнопку «Change system locate» и выставите там Russian (Russia), после чего перезагрузите сервер.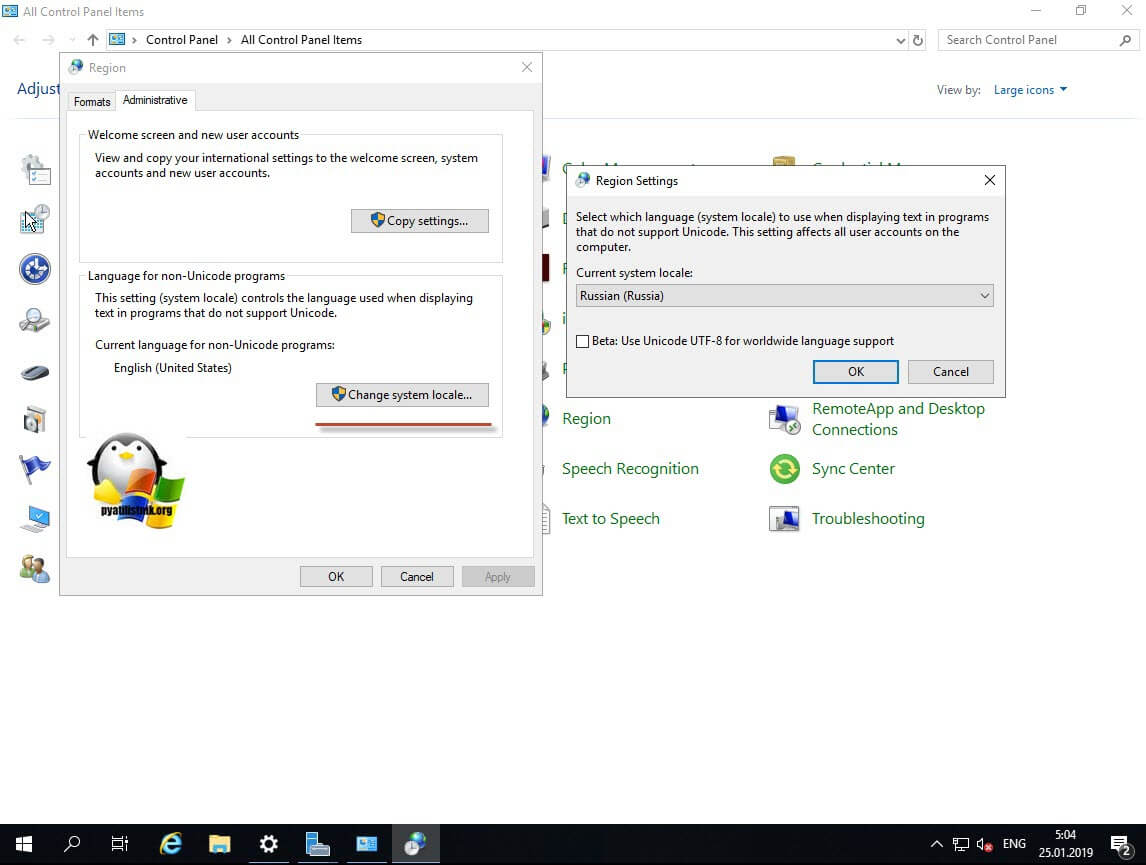 В итоге мы получили русский интерфейс в Windows Server 2019.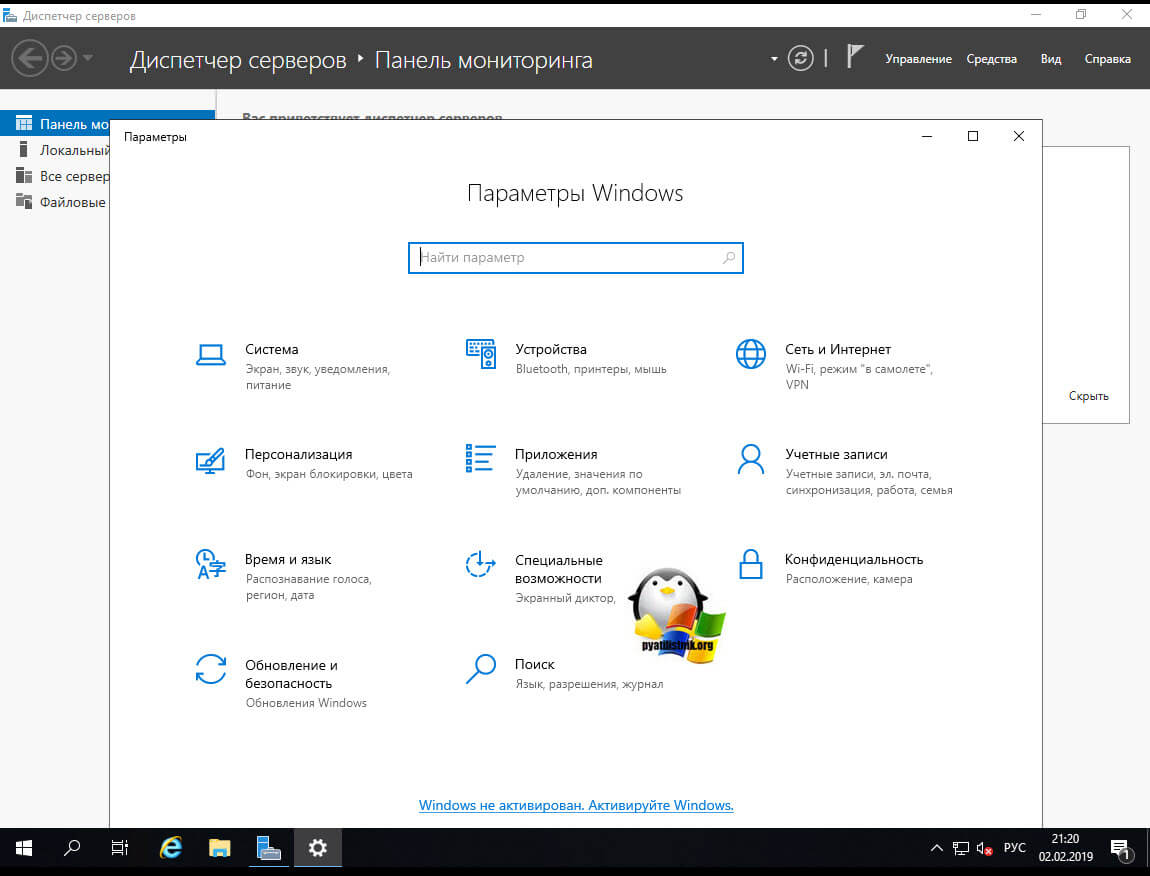 Как установить русский язык через lpksetup.exe
Если вы в окне параметры Windows получили ошибку установки русского языка с кодом 0x00F0950, то вам для русификации Windows Server 2019 нужно воспользоваться ISO образом Language pack.
Если посмотреть содержимое диска Language pack Windows Server 2019, то вы там обнаружите список пакетов Microsoft-Windows-Server-Language-Pack_x64_ru-ru.lp.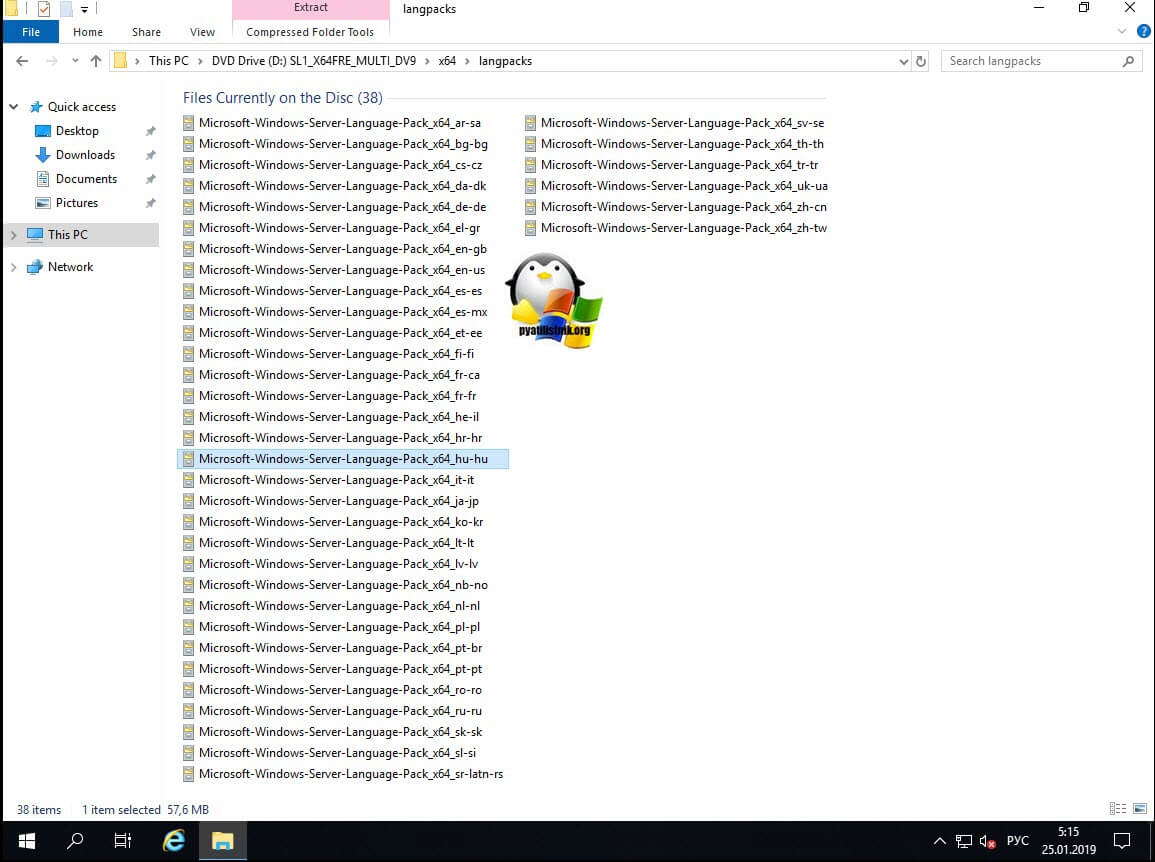 Что нам нужно выполнить для локализации сервера. Откройте cmd от имени администратора и введите команду lpksetup.exe. У вас появится окно мастера установки других языков «Choose to install or uninstall display languages». Тут можно как установить, так и удалить лишний язык. Выбираем пункт «Install display languages».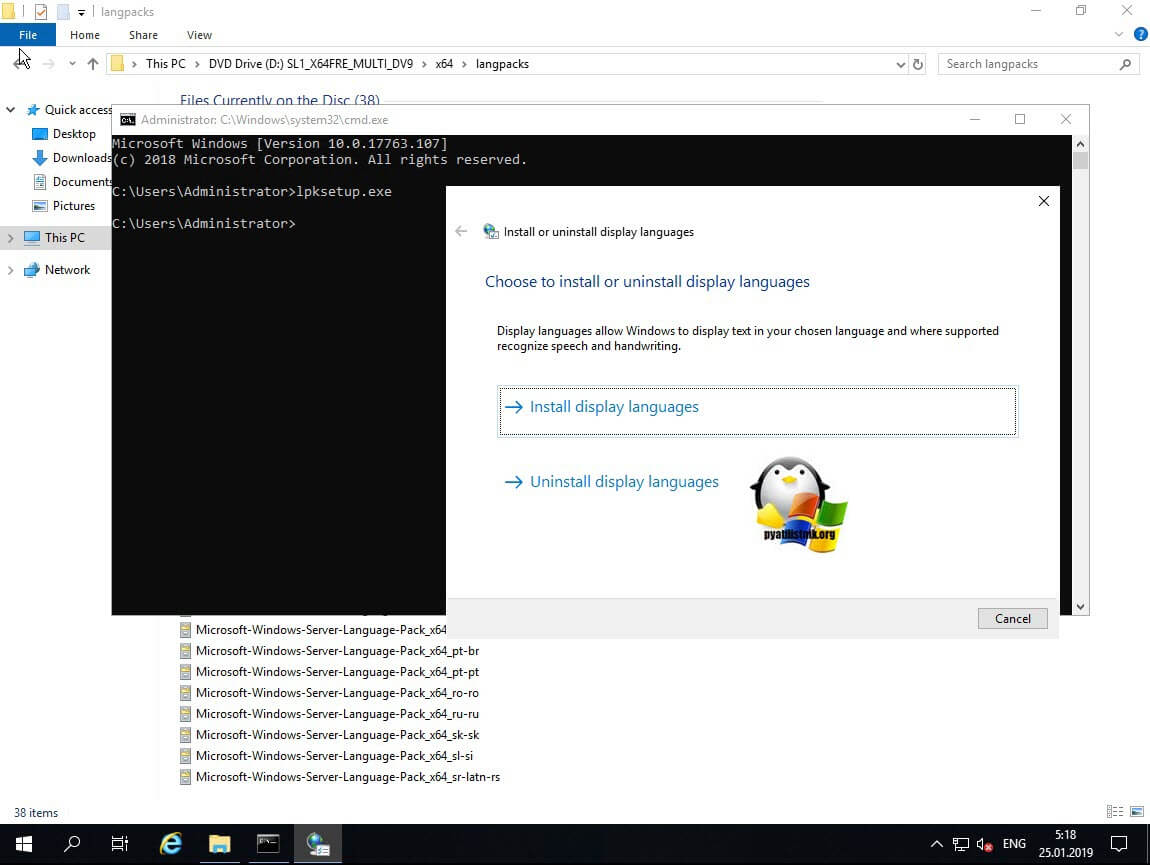 Через кнопку «Browse» выберите ваш пакет Microsoft-Windows-Server-Language-Pack_x64_ru-ru.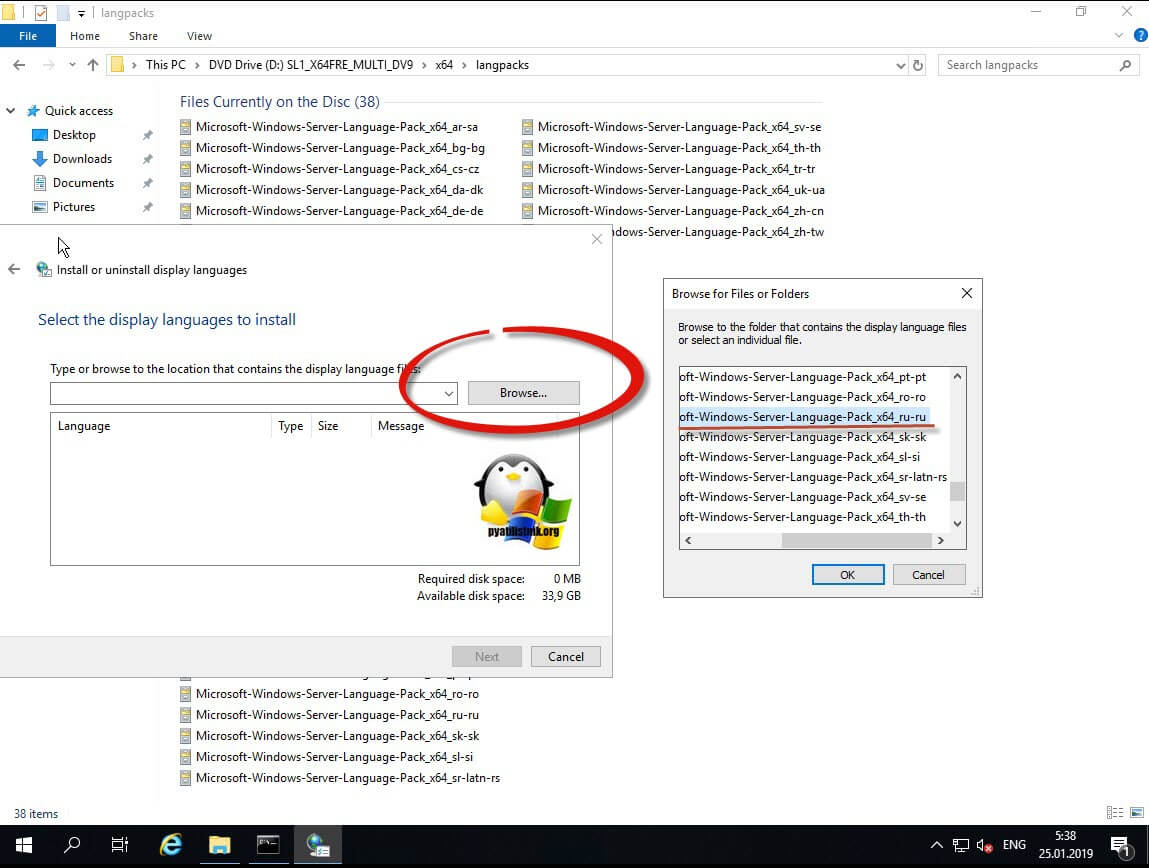 Видим, что выбран русский язык, размером 244 МБ. Нажимаем «Next».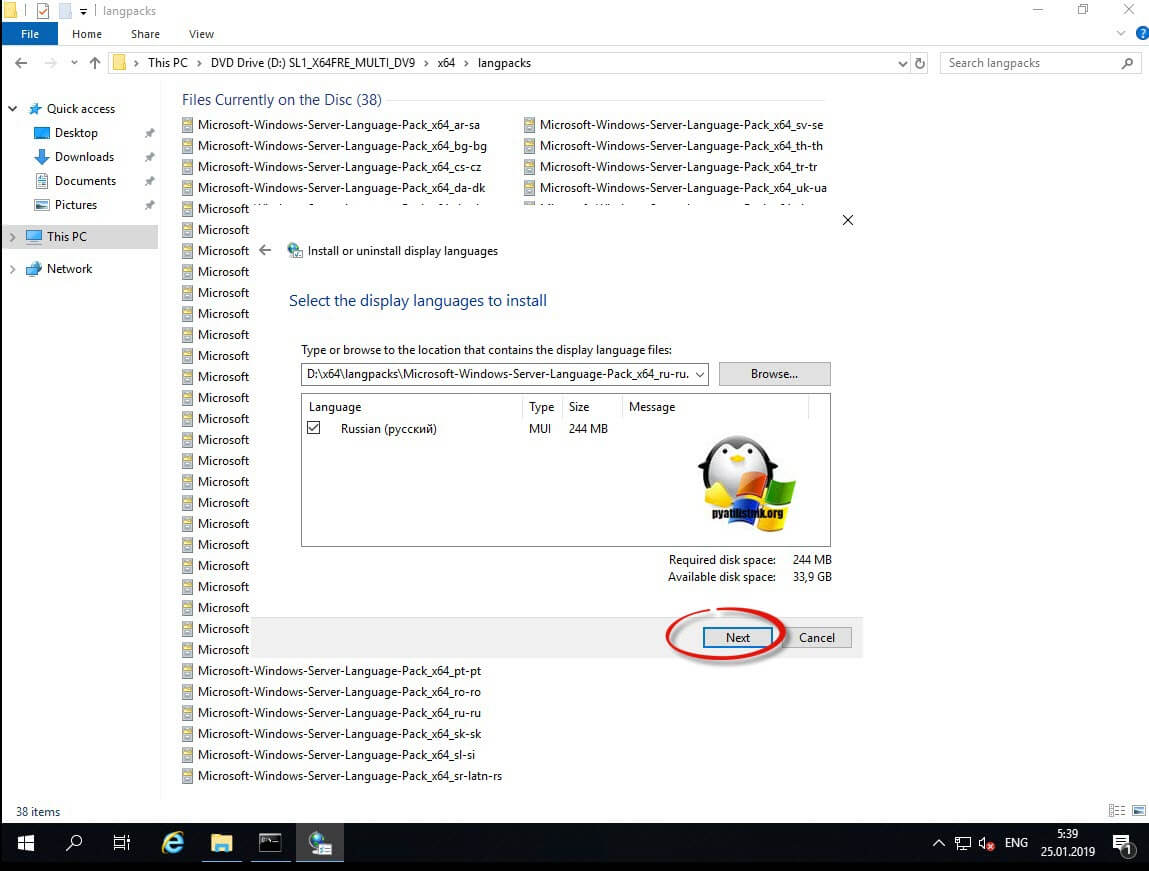 Принимаем лицензионное соглашение. оставляем выбор на «I accept the license terms» и нажимаем next.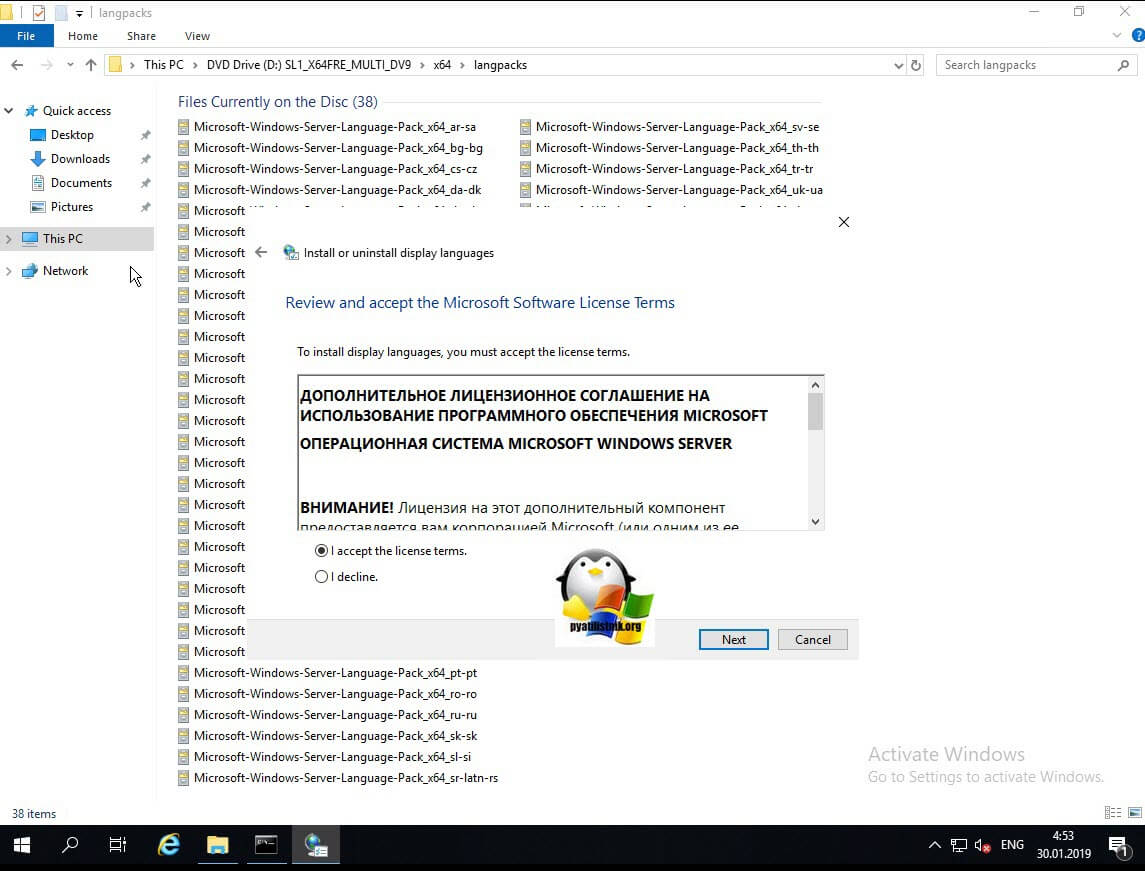 Начнется процесс установки русского MUI пакета на вашу Windows Server 2019. Сама русификация занимает минуты 3-4.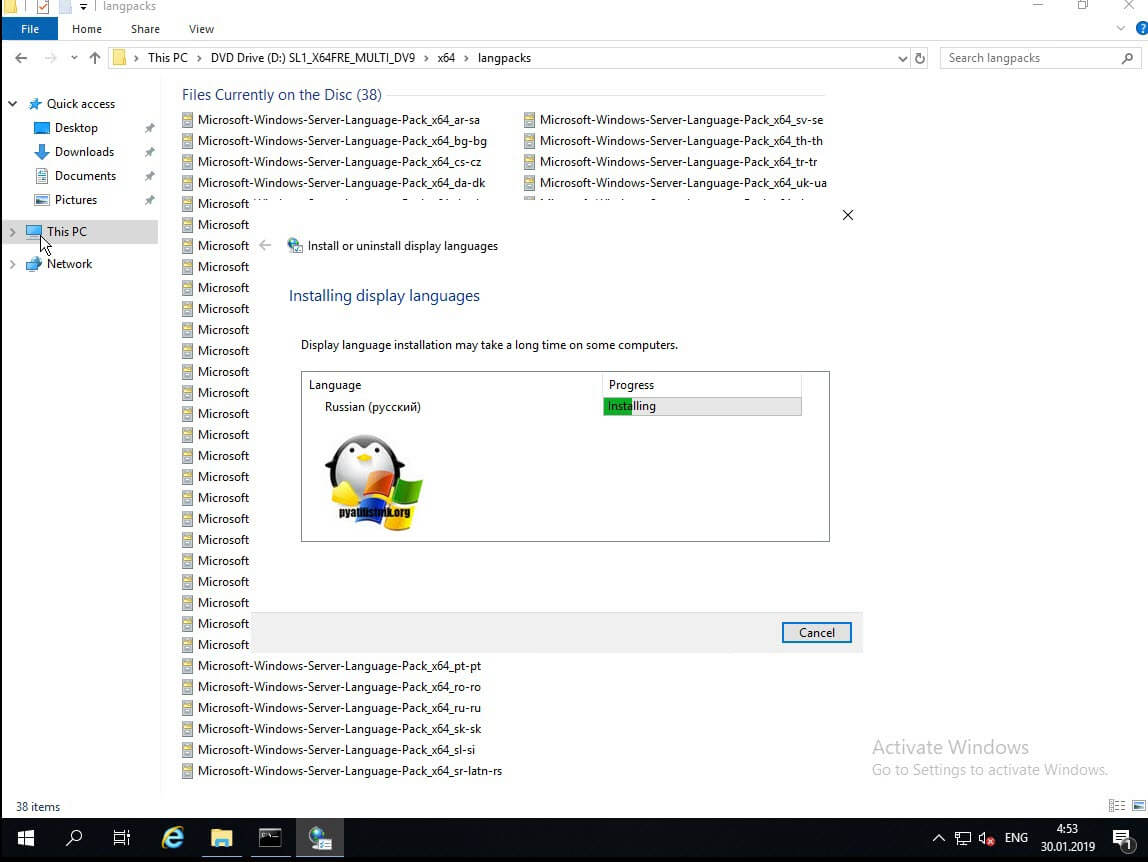 Дожидаемся окончания установки языкового пакета и нажимаем кнопку «Close»