Bad Sector Repair in Windows 10 (3 Ways Included)
Bad sector can cause many issues like backup failed, data loss, etc. You can refer to this article to check for the bad sector and try to run bad sector repair in Windows 10.
By AOMEI
/ Last Updated August 28, 2019
Scenario
I have upgraded to Windows 10 and during creating an image of the hard drive to back up, Windows 10 reported that the back up had failed, the reason was bad sectors. Can someone tell me how to repair bad sector in Windows 10? The drive I am checking is the main system drive C:.
What to do when a hard disk has bad sector problem in Windows 10/8/7?
A bad sector is a sector on a computer's disk drive or flash memory that is either inaccessible or un-writeable due to physical damage to the disk surface or failed flash memory transistors. When you have a bad sector on the hard disk, the data on the bad sector may be lost. Therefore, you need to do a bad sector repair in Windows 10 hard drive. You can use disk utility software such as CHKDSK, SCANDISK, Windows built-in bad sector repair tool or best bad sector repair software to detect or repair bad sector.
Bad sector repair in Windows 10 using Windows built-in tool
Step 1. Open This PC, right-click on System drive and choose Properties.
Step 2. Go to Tools, and then click Check. Click on Check under Error-checking.
Step 3. Review the scan result, then click Scan and repair drive.
Step 4. Choose when to repair the file system. Wait for Windows 10/8 scan and repair the hard drive bad sectors.
Run Chkdsk /f in Windows 10 for bad sector
System File Checker is a utility in Windows that allows users to scan for corruptions in Windows system files and restore corrupted files. This tool can also scan every sector on a disk volume looking for the bad sector. Let's see how to remove bad sector from hard disk using CMD.
To use this tool, open the command prompt and type the following commands in Command Prompt and press Enter after each of them:
chkdsk c: /f /r (fix errors and recover data as possible)
Bad sector checking in Windows 10 using AOMEI Partition Assistant
AOMEI Partition Assistant is a professional disk manager. The Check Partition feature can directly help you check the bad sectors from the hard disk in Windows 10/8/7 with several clicks. To check bad sector with AOMEI Partition Assistant, you can follow the steps below:
Step 1. Download AOMEI Partition Assistant and launch the software. At the main interface, right-click the partition that you want to check and select Advanced, then select Check Partition.
Step 3. Click Start button to check.
To check a disk, you can right-click the disk and select Surface Test.
After finding out the bad sector, you can subdivide the bad sector into an independent unallocated space. In that case, it will not affect the data on the good sector, and the Operating System will know not to attempt to store data in this bad sector.
AOMEI Partition Assistant is also a disk copying software. When you find there are too many bad sectors, you may consider replacing the disk with a good one. You can use Copy Disk Quickly method to copy the data on the disk to a new disk, it will not copy the bad sector to the new disk.
Bad Sector Repair: How to Fix Bad Sectors on HDD in Windows 10/8/7
What to do when aВ hard disk hasВ bad sectors? This guide includes the best solutions to repair bad sectors on hardВ drive and protect your data effectively.
Occasionally, when one or more bad sectors come upon aВ hard disk, the disk will go bad. When this happens, the data in those bad sectors may be lost, but the data on the rest of the disk will be unaffected and the disk is still completely usable. In order to help you performВ bad sectors repair on hard drive and rescue your data as soon as possible, we suggest you follow through with the tips below before you take action to repair bad sectors.
HDD Bad Sector OverviewВ
Before you start, learn the basic information of bad sectors to pick a better solution and remove bad sectors from your drive.
What Is Bad Sector
According to Wikipedia and professional IT sites, the bad sector is defied a permanently managed storage unit on a hard disk. Once the sector gets damaged, all saved information in that section is lost. Usually, the operating system like Windows 10/8/7 will skip the bad sector once it's found and marked.
Two types of Bad Sectors
Hard bad sector is mainly caused by physical damage (in 1,2 causes), such as manufacturing error, physical broken, etc. While the soft bad sector is usually related to software issues (in the 3rd cause) such as improper operations on hard drive, file system error, etc.
Due to the different causes of bad sectors, the ways to repairing bad sectors are also varied. Continue reading, you will find the best solutions to repair bad sectors on your hard drive in Windows 10/8/7.
How to Check Bad Sectors in Hard Disk on Windows 10/8/7
Although we have explained that bad sectors can be defined as physical and logical bad sectors, you may still don't know how to distinguish them. Here is a simple rule for you to tell the difference: whether you can check bad sectors on your drive.
If you can run a disk checking andВ get the basic information about bad sectors, it's highly possible that your drive is having soft bad sectors. If not, the situation will become worse and it could be the hard bad sectors.
Besides, it has comprehensive hard drive partitioning options, such as resize/move partitions, create, merge, format, and wipe partitions. You can also use it to convert FAT32 to NTFS without losing data,В convert MBR disk to GPT disk, or vice versa.В
Step 1. Download EaseUS Partition Master and install it. Right-click the disk that you want to check, and then click «Surface test».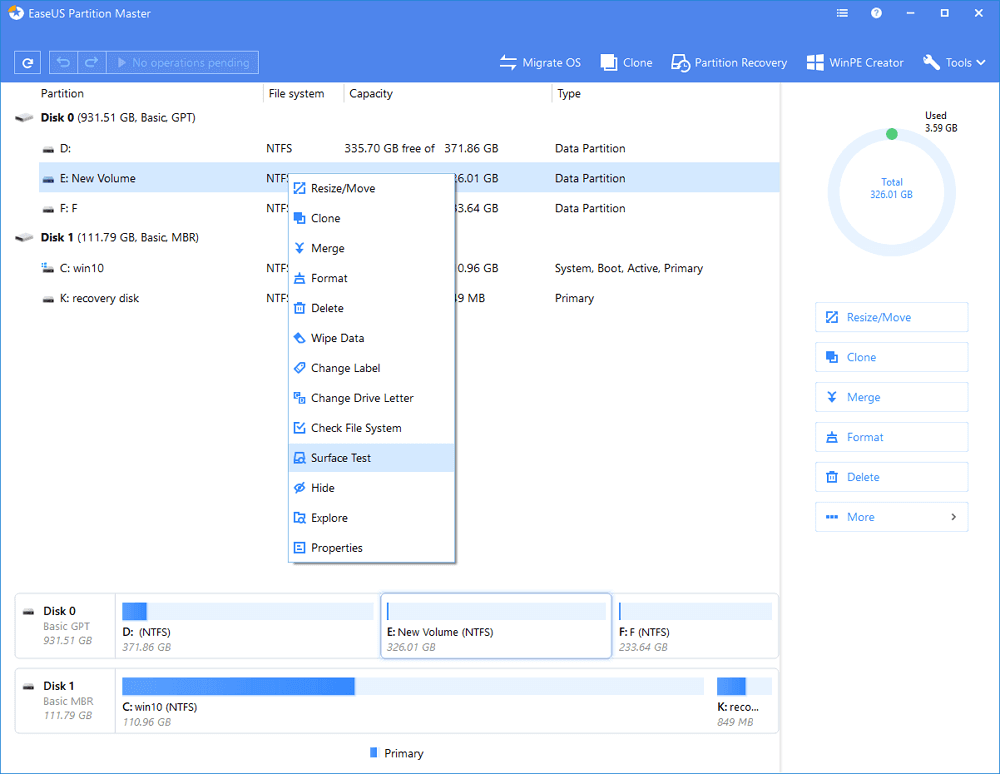 Step 2.В The operation will be immediately performed. Bad sectors will be marked as red.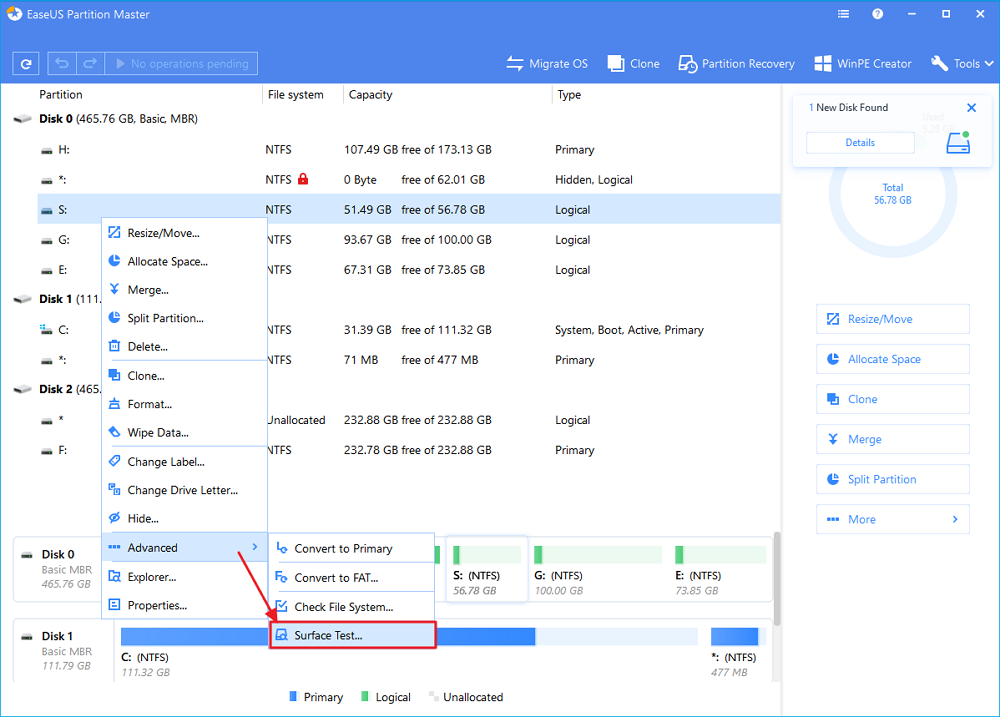 When there are too many bad sectors, the scanning process will be stuck. Wait patiently. After the process, you could know exactly how many bad sectors are there.
How to Fix BadВ Bad Sectors on HDD inВ Windows 10
As youВ know that when the operating system detects bad sectors, it would mark them as unusable no matter it's logical or physical bad sectors. As a result, data loss and the loss of disk capacity are unavoidable.В Then, how to fix and remove bad sectors from the hard disk? Read on forВ in-depth tutorials.В
First Thing to Do: Back Up and Clone HDD to a Good Hard Drive (Skip Bad Sectors)
If the disk contains many soft bad sectors, always stuck or slow to load data on the computer, or the drive is failing due to physical bad sectors, it is impossible to repairВ bad sectors.В The wise choice is to back up and save your data at first. But how to copy a hard drive with bad sectors?
EaseUS Disk Copy,В a powerful disk cloning software,В can skip the bad sectors and cloneВ disk toВ make a full copy of your hard drive.
Support Windows 10/8.1/8/7/Vista/XP
Some key features of EaseUS disk cloning software:
Download and apply this disk copy software to upgrade and clone HDDВ withВ bad sectors to a healthy hard drive without effort.
Replace the Disk with a Good one
If your computer can't boot into your operating system,В create a bootable USBВ in advance, and then followВ the steps below to copy your data.В Remember to connect theВ new hard drive to the computer as a storage device.
Step 1: Choose «Disk mode» and select the smaller hard drive as the source disk.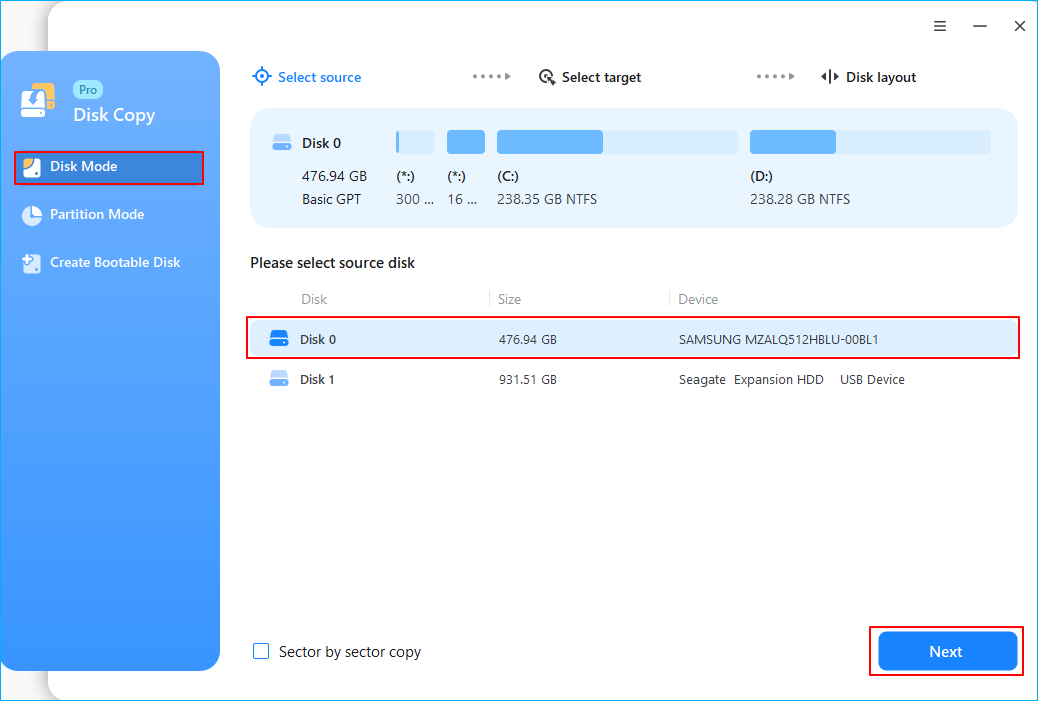 Step 2: Choose the bigger hard drive to save the data and then click «Next».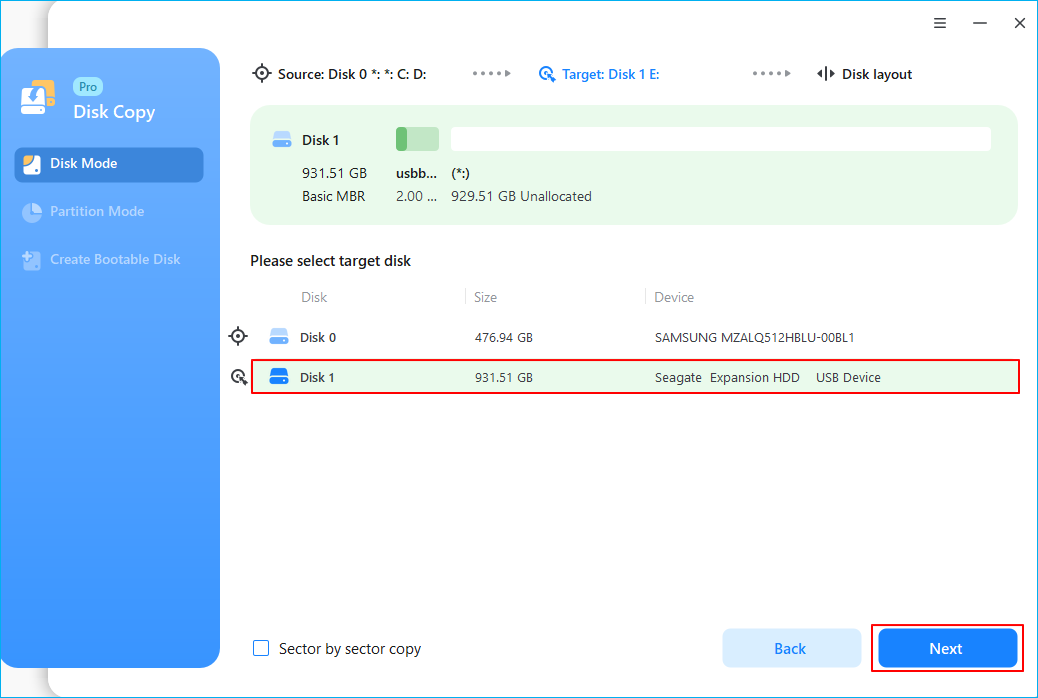 Step 3: A warning message tells you that the data on the destination disk will be overwritten. Click "OK" to continue if you do not have important data on the destination disk.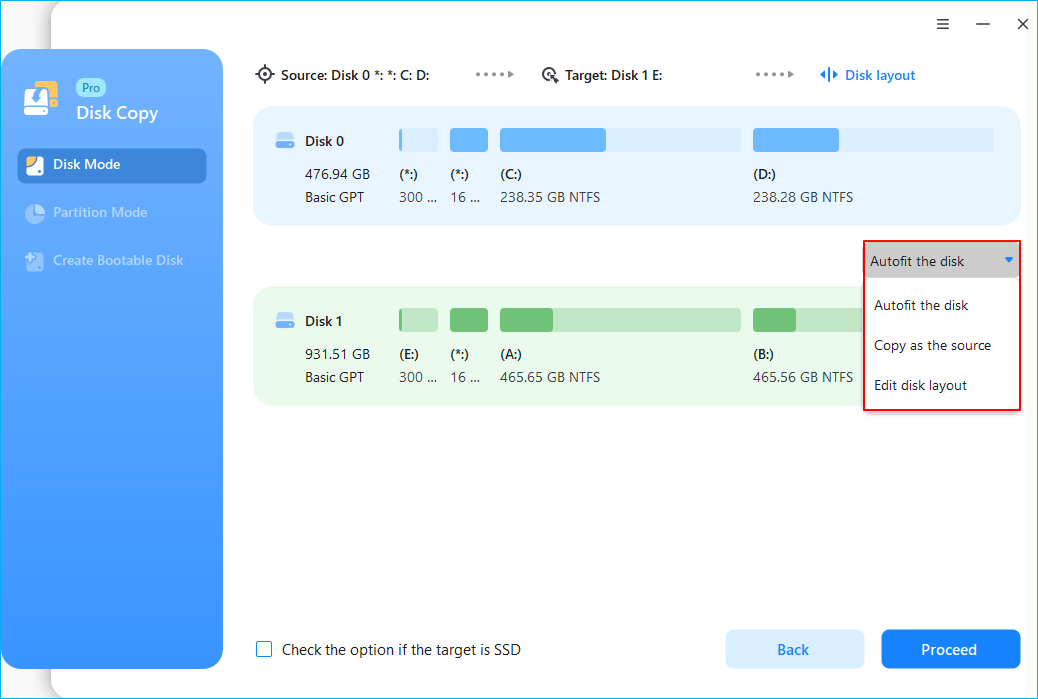 Step 4: Edit the disk layout and then click «Proceed» to continue.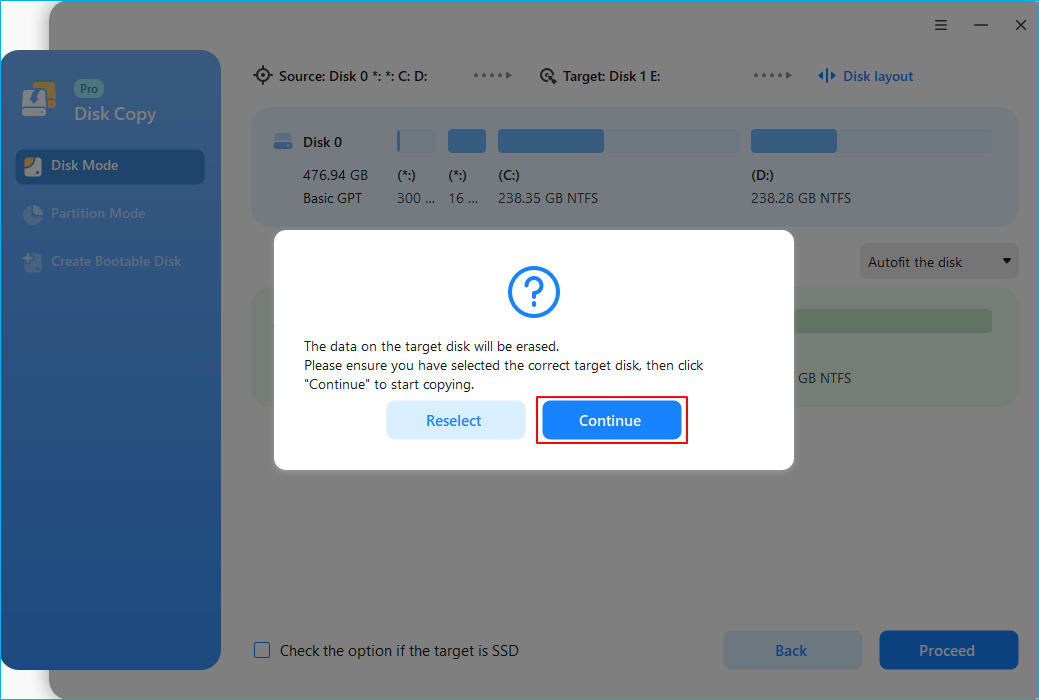 Step 5: Wait for the process to complete.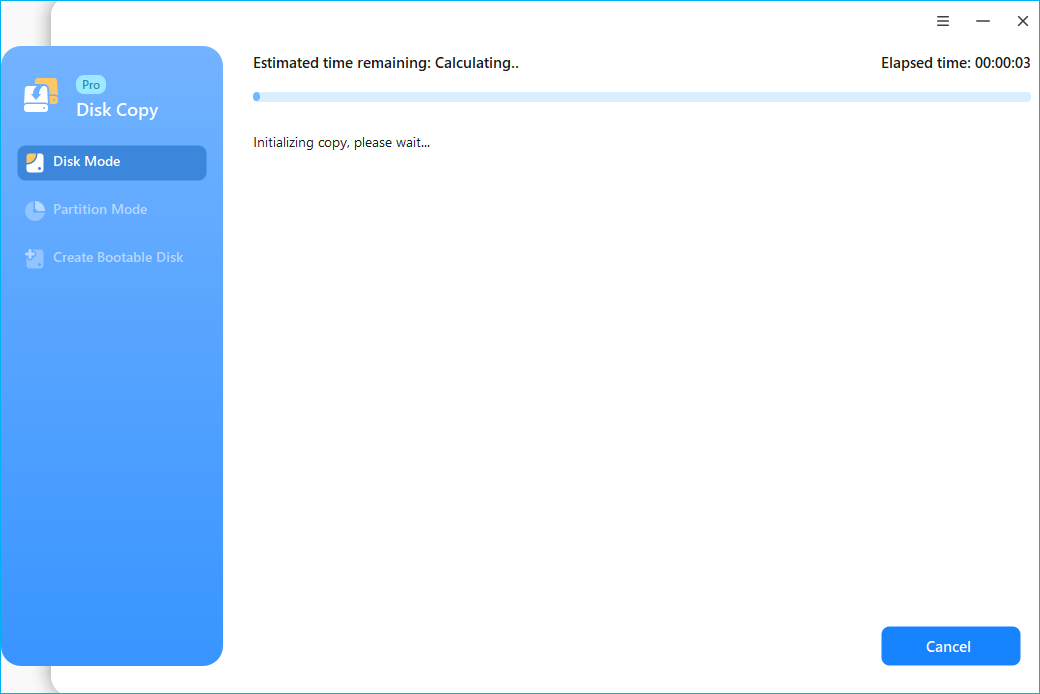 When the cloning process finishes, shut down your computer, insert the newly upgrade hard drive into your computer and replace the old drive. If it's a system drive, set the computer to boot from a new hard drive instead of the old one in BIOS.
Support Windows 10/8.1/8/7/Vista/XP
Repair Soft/Logical Bad Sectors in WindowsВ
If your hard drive is experiencing one or more bad sectors, still accessible, follow our instructions to fix yourВ problem and remove bad sectorsВ permanently fromВ hard disk with bad sectors repair tools.В
В 1. Run CHKDSK Command and Format Hard Drive
If there only a few bad sectors on your drive, you can run CHKDSK command and format the drive to repair those bad sectors:
Step 1. Run the CHKDSK command to fix soft bad sectors.
1. Press the Windows key and type cmd.
2. Right-clickВ «CommandВ Prompt»В andВ chooseВ «RunВ asВ administrator».
3. Type chkdsk E: /f /r /x and hit Enter. (Replace E with the drive letter of your hard drive.)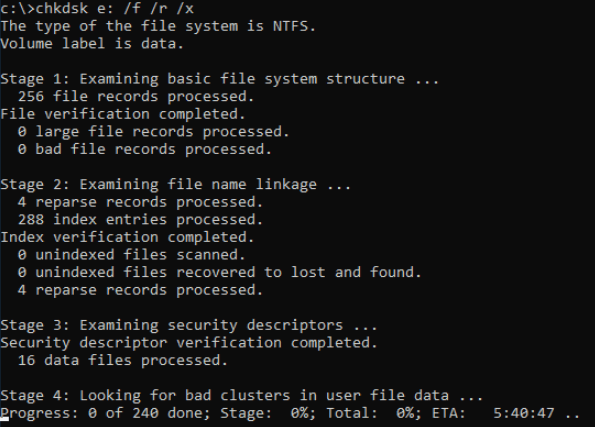 Step 2. Format hard drive to usable again
1. Open Windows File Explorer, locate and right-click on your hard drive.
2. Select «Format», reset the file system as NTFS, tick «Quick Format» and click «Start».
After this, you can save your data back to your hard drive and use it again.
2. Use a free disk check and repair tool to fix bad sectorsВ
EaseUS partition management software offers the simplest methodВ to check and fixВ hard drive errors. You can apply its Check File System option to checkВ and repair hard disk partition errors in Windows 10.
В in Windows 10, 8, or other Windows OS with one-click. Just download and start EaseUS partition management software, locate the hard disk, then run the check file system.
Hard/Physical Bad SectorsВ Repair
Mostly, when your hard drive contains hard bad sectors, you cannot repair bad sectors by using normal solutions. The only possible way is to low-level format the drive, resetting the hard drive blocks, clusters, and sectors.
A low-level format is also called a physical format. Modern hard drives are low-level formatted at the factory for the life of the drive. A PC cannot perform an LLF on a modern IDE/ATA or SCSI hard disk, and doing so would destroy the hard disk. That is to say, you can't repair a bad sector.
To resolve this issue, you have two choices:
1. Send your hard drive to the manufacturer or a local repair center, customize for low-level format.
2. Choose to clone the disk with bad sectors to a good hard driveВ to avoid the hard disk getting worse with more bad sectors.
Summary of Bad Sector Repair
This page provides the complete guide to help youВ fix bad sectors on HDD. To removeВ bad sectors from hard disk permanently, you can use the Windows CHKDSK command or EaseUS free partitioning software. With theВ two bad sector repair tools, you can efficientlyВ fix and repair bad sectors on the hard drive, external storage devices.
In contrast to logical bad sectors, if there are physical bad sectors on your hard drive, it's almost impossible to repair your hard disk. You need to replace it with a new hard HDD. So, to avoid data loss,В when you find bad sectors on your disk, be sure to use EaseUS disk clone software to copy and make a backup of your data.В
Support Windows 10/8.1/8/7/Vista/XP
More Information About Bad Sectors
Some people may also have questions about diagnosing if bad sectors are on your drive. You may judge from the following two factors:
1. What are the symptoms of bad sectors?
When you meet one of the following symptoms, your hard drive or external storage devices may contain bad sectors:
2. What are the causes of hard bad sectors?
1. Hard drive was shipped from the factory with bad sectors. (e.g. SSD disk)
2. Physical damage, like:
3. What are the causes of soft bad sectors
4. How to avoid bad sectors?
Some of you may also want to know how to protect the drive from bad sector errors. Here are some tips:
Лучшие программы для восстановления BAD-блоков жесткого диска
BAD-блоки — логически или физически неисправные сектора жестких дисков, чтение или запись информации на которые невозможна или затруднена. Возникают бэд блоки по различным причинам — из-за неосторожной транспортировки винчестера, сбоев подачи электроэнергии на устройство, внутренних ошибок управляющей платы/программы, естественного износа поверхности диска и т.д.
Можно ли восстановить BAD-блоки жесткого диска?
В некоторых случаях BAD-блоки могут быть восстановлены специализированными утилитами. Если же сектора повреждены физически, то восстановить их программно невозможно. В этом случае применяется метод переназначения адреса сектора. На каждом винчестере имеется специально выделенная область для подобных мероприятий. Пока эта область остается свободной, ее можно использовать вместо поврежденных секторов.
Таким образом, для восстановления BAD-блоков должно быть соблюдено одно из двух условий — либо неисправность носит логический характер, либо на диске имеется служебное пространство для переназначения бэд-блока. Но следует иметь в виду, что не всегда удается «вылечить» бэд-блоки, т.к. многое зависит от конструктивных особенностей винчестера, функциональности его встроенного программного обеспечения и множества других факторов.
Рассмотрим наиболее распространенные утилиты, позволяющие с некоторой вероятностью восстановить битые сектора жестких дисков.
Victoria HDD
В качестве опций такого сканирования в Victoria HDD предусмотрена возможность восстановления (Refresh), полного стирания (Erase) или перераспределения (Remap) битого сектора. Первая опция помогает устранить логические ошибки, вторая и третья — физические и не устраняемые (без уничтожения информации) программные неисправности.
Пользоваться программой достаточно просто:
Среди плюсов и особенностей программы Victoria HDD выделим:
HDD Regenerator
HDD Regenerator достаточно узкоспециализированная утилита, решающая одну единственную задачу — обнаружение и исправление BAD-блоков.
Пользоваться программой относительно просто:
Приведенная выше инструкция запускает сканирование поверхности жесткого диска с опцией восстановления бэд-блоков, начиная с самого первого сектора. Доступны и другие режимы работы.
Минусы программы HDD Regenerator:
Disk Revival
Программа Disk Revival позиционируется автором как инструмент для блокировки «почти» битых и/или медленных секторов жесткого диска. Т.е., по сути, утилита не восстанавливает бед-блоки, а «консервирует» их. Сразу отметим, что утилита не справляется с физическими неисправностями секторов, потому выше и было использовано выражение «почти битые» блоки. Тем не менее, подобные секторы зачастую помечаются (той же Victoria, например) как битые. И именно с такими — «не совсем» битыми — блоками и работает Disk Revival.
В целом процесс исправления программой медленных секторов можно считать восстановлением жесткого диска, т.к. имеющиеся на нем неисправные участки более не будут использоваться, а, значит, и исчезнут все связанные с наличием таких блоков проблемы.
Пользоваться программой Disk Revival достаточно просто:
Утилита Disk Revival обнаружит все медленные сектора на диске и заполнит их произвольными данными. Другими словами, бэд-блоки блокируются на уровне файловой системы.
Плюсы программы Disk Revival:
Минусы Disk Revival:
DiskGenius
Исправление проблем с бэд-блоками производится программой DiskGenius примерно также, как это делает утилита Disk Revival.
Положительные качества DiskGenius:
К минусам DiskGenius можно отнести:
Все рассмотренные выше программы предназначены для работы в среде Windows (если не брать в расчет загрузочные версии Victoria и DiskGenius). Утилита MHDD не работает из операционной системы (Windows-версия хоть и существует, но с ее запуском обычно возникают всевозможные проблемы). Программа первоначально создавалась и в данный момент развивается в качестве загрузочного ПО для тестирования, диагностики и восстановления жестких дисков.
Наибольшую сложность у новичков вызывает процесс запуска MHDD, всегда начинающийся с создания загрузочной флешки или диска. Здесь этот процесс мы не будем рассматривать, а приведем ссылки для скачивания необходимых файлов:
Далее останется загрузить компьютер с вновь созданной флешки и выполнить несколько простых шагов по восстановлению BAD-блоков винчестера:
О плюсах и минусах MHDD судить сложно, т.к. программа в одном случае идеально справляется со своей задачей, в других — даже не определяет жесткий диск. Здесь многое зависит от модели винчестера и конфигурации материнской платы.
То, что в процессе работы с винчестерами не используются всевозможные системные драйверы и прочее посредническое программное обеспечение (т.е. работа с накопителем происходит практически напрямую), делает MHDD очень быстрым и безошибочным средством, чего нельзя сказать о любых утилитах, запускающихся из-под Windows.
Остались вопросы, предложения или замечания? Свяжитесь с нами и задайте вопрос.
3 best HDD bad sector repair tools for Windows 10
The role of a hard disk in a computer system is extremely important because it holds all your valuable information and keeps the operating system working properly.
The data on the bad sectors may be temporarily or permanently lost depending on the cause of the problem.
Hardware errors are impossible to fix with software and can only be rectified by creating a back-up and replacing the hardware itself. If the damage is caused by software errors then you can fix them by using bad sector repair software.
A hard drive contains millions of sectors that over time can get damaged or become inaccessible for a variety of reasons – logical corruption, physical damage of the disk, etc.
When a section of the hard drive is inaccessible, in the worst-case scenario, it can cause the operating system to crash.
This is one of the most frequent root-causes for Blue Screen of Death errors, aka BSoD errors.
In this article, we will explore the best hard disk bad sector repair software options that allow you to easily fix HDD issues.
How fix bad sectors permanently?
Stellar Data Recovery
Stellar Data Recovery software allows you to recover lost or deleted files, folders, photos, documents, videos, and other files even if your hard drive was severely corrupted or due to accidental deletion or formatting.
It has been perfecting its software for more than 25 years. During this time this company has received more than 100 awards for its top of the line products.
This is one of the leading names on the market in regards to the recovery of files a hard drive failure or formatting and offers you 3 great options that cover users' needs from a basic user to the most advanced.
Stellar Data Recovery
1. Stellar Data Recovery – Standard
The Standard version of this software is designed for the average PC user that needs help in recuperating lost or corrupted files like Office documents, emails, spreadsheets, presentations, photos, videos, audio files, and others.
Stellar Data Recovery-Windows Standard is limited to recover data up to 1GB which is more than enough for the average PC user.
It can also recover data from external storage devices such as external hard-drives, SD cards, USB flash drives, Cameras, Camcorders, etc.
Stellar Data Recovery Standard offers an easy-to-use and very user-friendly interface in order to make it as easy as possible for you to quickly undo any data loss issues encountered. And it does so while preserving the original structure of the data.
All you need to do is connect the affected storage media (internal or external), launch the software and run a scan.
Stellar Data Recovery V8's very performant search feature will help you to easily locate specific files by searching by custom filters like file name, size, file type, and even by last modified date and created date.
In order for you to dig even deeper inside the affected hard-drive, Stellar Data Recovery Standard has a Deep Scan feature specifically designed to tackle damaged and formatted devices.
Sometimes we find that an entire partition of our hard-drive is missing. This powerful software has a built-in option called Cannot Find Drive that can recover an entire partition at once and even allows you to preview the data before you recover it.
2. Stellar Data Recovery – Professional
The professional version of this amazing software holds all the capabilities mentioned above in Standard version with a few key added options:
You can find a step-by-step guide to using this tool on StellarInfo's page.
3. Stellar Data Recovery – Technician
This version of the software is the ultimate recovery tool, including all the options covered in the first two versions with a plethora of additional features:
All the versions of the software have multiple languages support: English, German, French, Italian, Spanish, Japanese, and Chinese. You can easily change it either in pre-installation or post-installation from the Advanced Settings.
AOMEI Partition Assistant
AOMEI Partition Assistant has a variety of very efficient tools all tied up by a very user-friendly interface that simplifies your PC disk partition management and offers a safe environment for you to work.
It allows you to create, resize, move, merge, and split partitions without losing any data and even repairs MBR (Master Boot Record) with ease.
AOMEI Partition Assistant supported devices include:
If your computer doesn't boot and you see an error information message like operating system not found, missing operating system, or invalid partition table that shows you that there is something wrong with the MBR.
MBR problems can be caused by partitions being infected by a trojan horse virus that your antivirus didn't remove completely or loading a corrupted backup image for your OS. This problem also occurs on some external hard disks.
To see a step-by-step guide about how to solve these issues, check out this guide from AOMEI.
AOMEI Partition Assistant
Disk Genius
Disk Genius is one of the oldest software on the market with a great reputation for repairing computer software.
Disk Genius is not only a great utility to take care of your PC and system but also to run tests and apply fixes to your hardware. The Disk Utilities feature from Disk Genius is a great dedicated tool for repairing bad sectors on your HDD.
Another important feature of this tool is the backup & restore option which allows you to save your system configurations before taking any disk repair actions.
Here is a quick overview of the most important processes that it can perform:
These are only some of its key features but they're the most important if you want to keep your disk healthy.
From repairing the bad sectors to recovering lost files – Disk Genius is your disk guardian. You can get a free version from the official website.
Disk Genius
So, any of these three tools should help you to fix your hard drive bad sector issues.
If you have any questions or suggestions, feel free to comment below.